Across the Block 181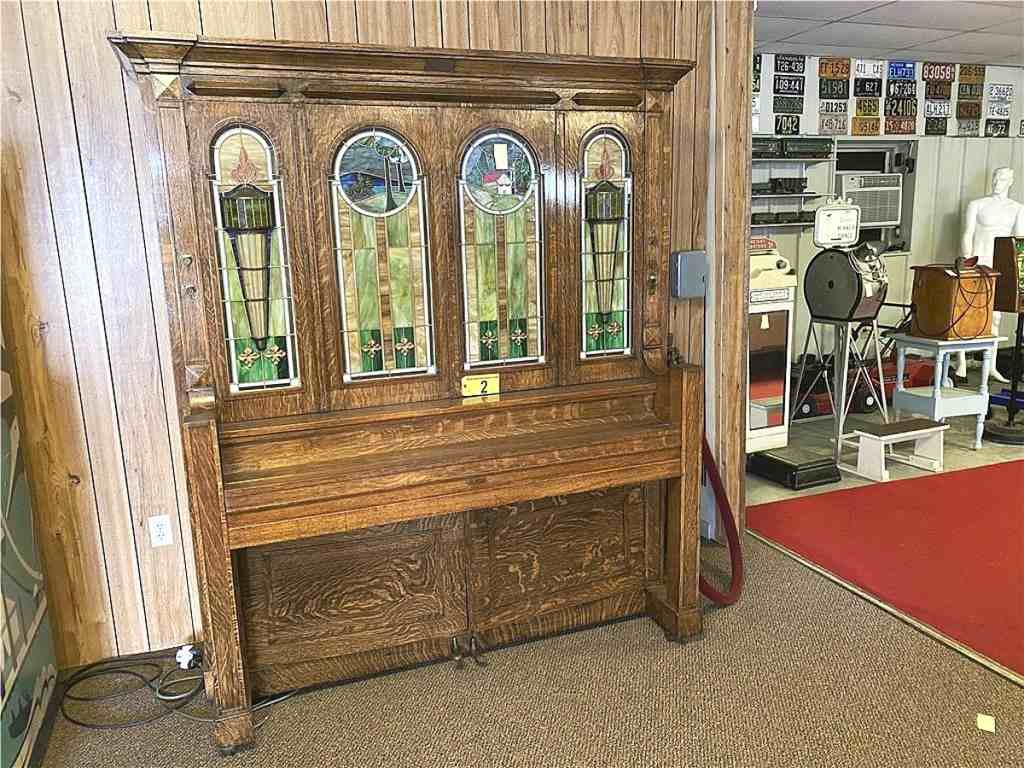 Early J.P. Seeburg Orchestrion Hits the Right Note
NOTE SOUTH PORTLAND, MAINE – A 1909 J.P. Seeburg Piano Company Nickelodeon coin-operated style G Orchestrion sounded off for $25,150 at Keenan Auction Company's September 7 auction of vintage amusement games and automatic music machines, assets from the Wells Auto Museum. From the year the J.P. Seeburg Piano Company was founded, this example was among what most historians agree as leading the field in coin-op music machines. The firm's instruments used one of just three popular types of music rolls: the A, G (as here) and H. "Buyers from 25 different states and five countries competed for items in this online event," said Steve Keenan. For information, www.keenanauction.com or 207-885-5100.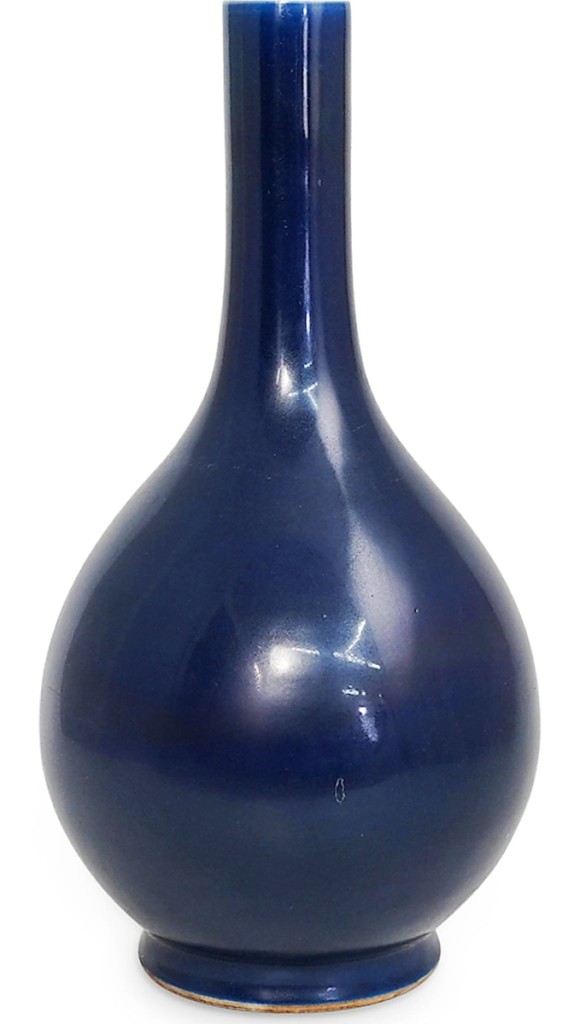 At Akiba, Chinese Bottle Neck Vase Stands Head & Shoulders Above the Rest
DANIA BEACH, FLA. – September's finest in Akiba Antiques' sale of the same name on September 14 was a Chinese Qing dynasty porcelain bottle neck vase, which sold for $11,250. With a monochrome blue glaze, the Nineteenth Century or older vase was 15½ inches high by 8 inches at its widest diameter. For information, 305-333-4134 or www.akibaantiques.com.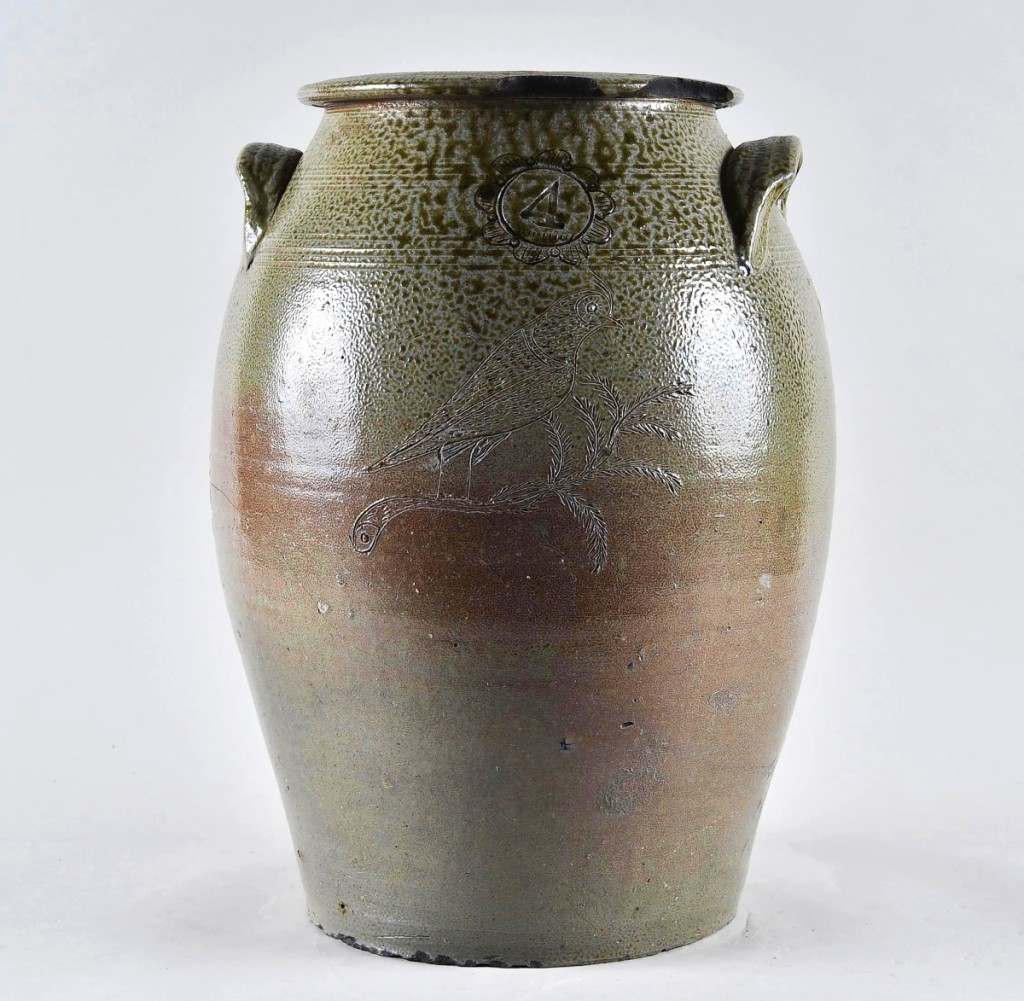 Webster Stoneware Turns Heads in North Carolina
GIBSONVILLE, N.C. – A salt-glaze stoneware jar by North Carolina potter Chester Webster sold for $30,750 at Ledbetter Folk Art & Americana Auction's September 18 sale. Ledbetter called it "the pinnacle of North Carolina salt-glaze pottery," produced circa 1850 at the BY Craven factory. The 4-gallon jar features incised decoration of a bird and fish. Webster trained in Hartford, Conn., before moving to North Carolina in 1827. For information, www.ledbetterauction.com or 336-524-1077.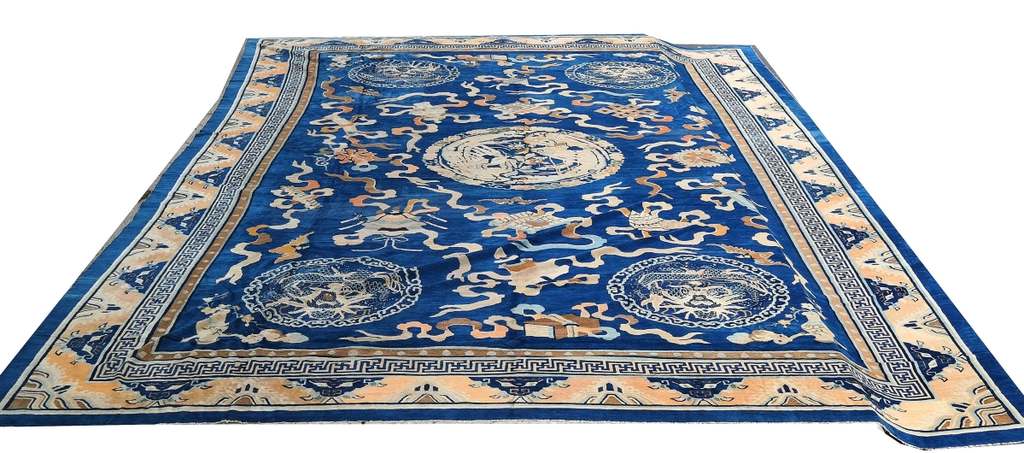 Roland Ny's Patriot's Day Sale Led by Peking Antique Carpet
GLEN COVE, N.Y. – "We had a pretty good sale," said Sal Trupiano of Roland NY about the firm's September 11 estate sale. "The Rolands decided to donate some of the proceeds to the Tunnel To Towers Foundation and the 9-11 Memorial Fund, so I'm happy they will get the support they need." The big standouts in the sale, according to Trupiano, were a Chinese carpet that sold for $31,250, "a surprise considering antique carpets have been out of favor for several years," he said, "and a nice painting by Malcom Liepke that brought four times the high end of the estimate." The large (19 feet 5 inches by 13 feet 2 inches) Peking carpet, North China, mid-Nineteenth Century (shown), featured gold medallions on a blue ground. The Liepke oil on canvas painting of a mother fixing her daughter's hair, presented in the original gilt frame, sold for $11,875. For information, www.rolandantiques.com or 212-260-2000.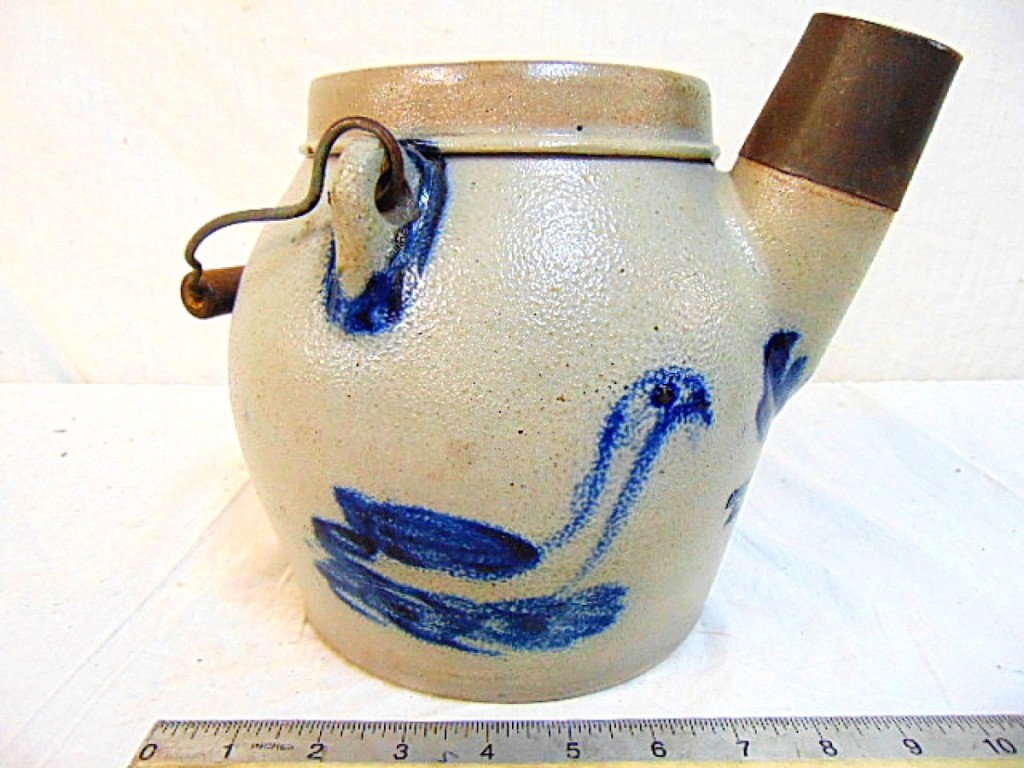 Rare Stoneware Batter Jug Proves Ducky at Hudson Valley Auctioneers
BEACON, N.Y. – Hudson Valley Auctioneers presented an unreserved absentee, phone bid and online antiques and estate auction on September 13, with several local estates combining to offer an interesting and diverse sale of 600 lots. The sale was highlighted by a local estate collection of sextants, telescopes and microscopes, several barometers, transits and scientific instruments. If a stoneware batter jug can be counted as a scientific instrument, then a dandy one crossed the block as a rare cobalt-decorated example with ducks by Cowden & Wilcox, Harrisburg, Penn., sold for $20,000. For information, www.hudsonvalleyauctioneers.com, 845-480-2381 or 489-2399.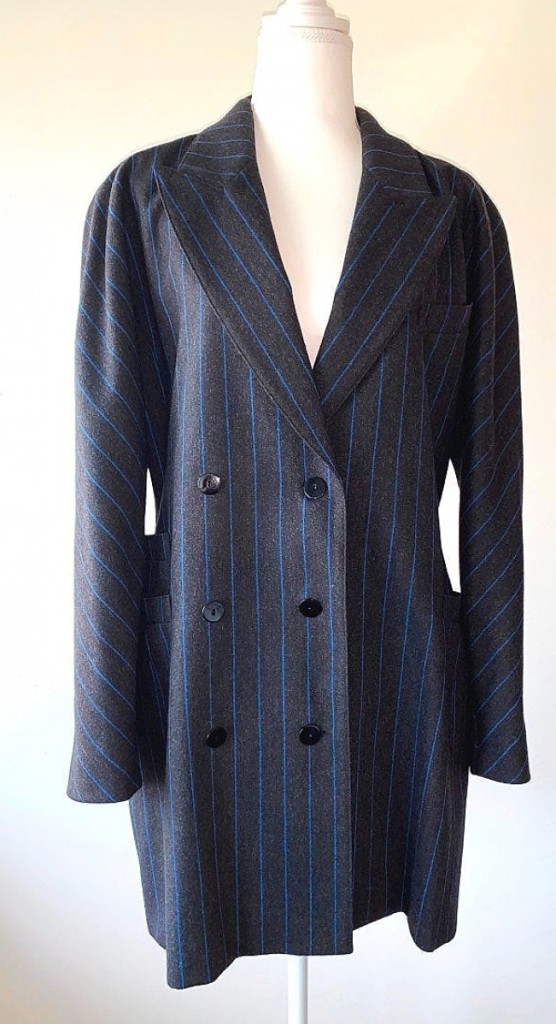 Princess Diana's Jacket Buttons Up $5,000 at Mid-hudson Auction
NEW WINDSOR, N.Y. – Princess Diana's smart grey blue pinstripe wool and cashmere jacket with silver shiny buttons, designed by Margaretha Ley, brought $5,000 at Mid-Hudson Auction Galleries on September 11. It was worn on April 17, 1989, when the princess and Prince Charles visited survivors of the Hillsborough disaster in Sheffield, a fatal human crush during a football match, and in the same year for an engagement at the Bayswater Families Doctors Practice in Paddington. A previous time the garment was worn was when the princess gave a speech for Barnardo's in London, October 18, 1988, and later again in March 1990 during a visit to the Met Police Driving School Hendon – for this cold outdoor engagement the Princess combined the jacket with a blue turtleneck. For information, 914-882-7356 or www.midhudsongalleries.com.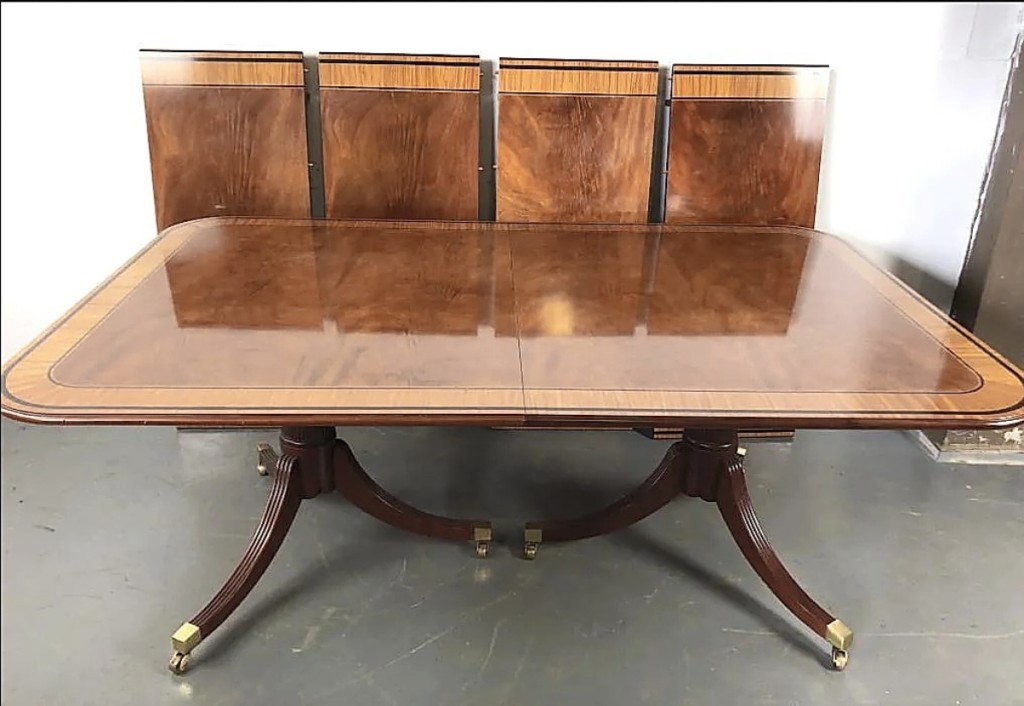 Bidders Came to the Table at Auction Barn
NEW MILFORD, CONN. – The highest price paid in The Auction Barn's 400-lot September 13 sale was $5,625, which a private collector in Massachusetts paid for a double pedestal Regency-style dining table by Baker. The cross-banded mahogany table, which came with four leaves, had come from a Westchester, N.Y., estate and had been estimated at $600/900. For information, 860-799-0608 or www.theauctionbarnct.com.

Cello Plays Sweet Music for Nadeau
WINDSOR, CONN. – The top lot on September 18 was a surprise for Nadeau's Auction Gallery, when a full-sized cello brought $9,600 from an estimate of $300/500. Sourced from an estate in New Haven, Conn., the piece was hand marked "M-742." Despite rough condition, it garnered extensive interest and finally sold to a private collector in Connecticut. For information, 860-246-2444 or www.nadeausauction.com.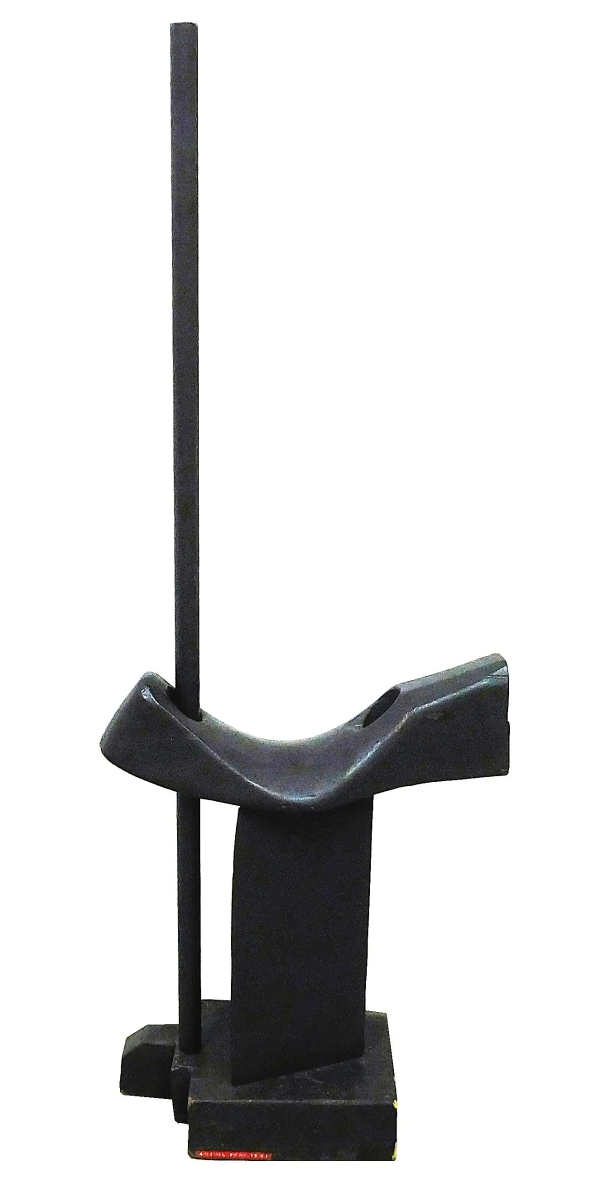 Nevelson Sculptures Draw Fans at Winter Associates
PLAINVILLE, CONN.- "Animal Form," a 57-inch-high painted wood sculpture by Louise Nevelson (Russian/American, 1899-1988) sold for $11,070 at Winter Associates' September 13 sale. The work came from the collection of J. Sanford and Helen Davis, well-known Connecticut shoreline philanthropists. It, along with another Nevelson assemblage work, had been given to them in 1974 by Lucille Beards, who was a good friend of the artist. For more information, www.auctionsappraisers.com or 860-793-0288.
Source
---
‹ Back