Across The Block 184
The weekly auction highlights column in our October 22 issue harps on nostalgia. Where else do you place the enthusiasm felt for a Ninja Turtles comic or the dark reverence for a poster from the 1979 film Apocalypse Now. One can't help but wonder what the owners of the Townshend Home in New Haven, Conn., were feeling when they sold it all at Skinner last week. These folks could trace an unbroken line of ownership of that home and its contents through their family for over 200 years. There was more than enough nostalgia to go around there.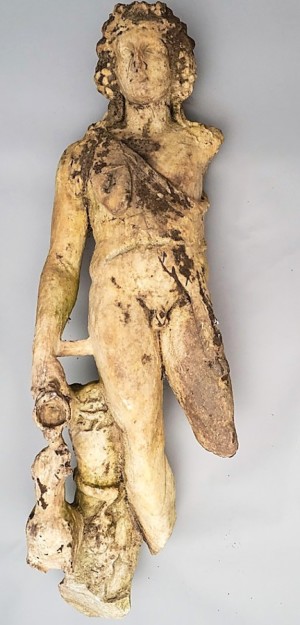 Marble Dionysus Fragment Gets God-like Result at Old Kinderhook
VALATIE, N.Y. – Of the 700 lots that crossed the block at Old Kinderhook Auction Company on September 28, top-lot honors went to an ancient Roman or Greek marble statue of Dionysus that stood 42 inches tall even with part of its legs missing. Dated to the Second Century CE or later, the ancient fragment carried an estimate of $1/2,000 that attracted enough interest to push it to $24,000. For information, 518-912-4747 or www.oldkinderhookauction.com.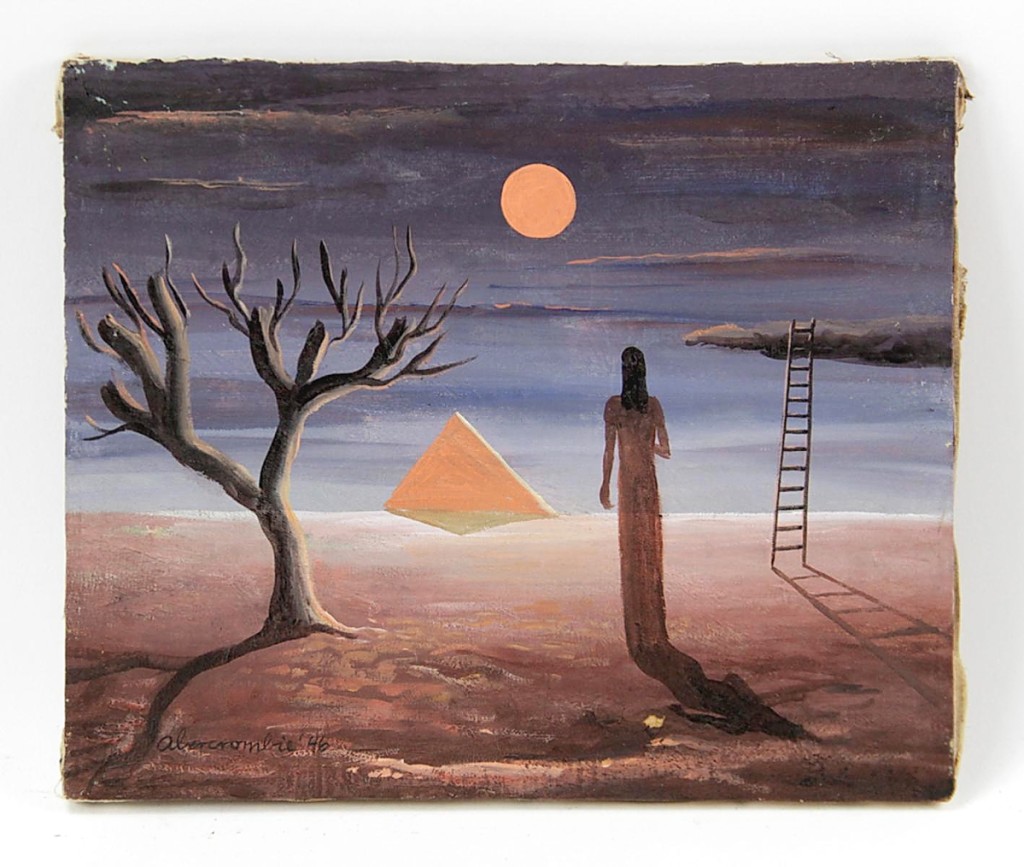 Gertrude Abercrombie Hits $181,250 at Kaminski's Fall Fine Art Sale
GLOUCESTER, MASS. – Kaminski Auctions conducted a special fall fine art auction this year on September 19 at the North Shore Art Association. Kaminski once again reserved this special venue for the auction after the success of the October 2018 William H. Trayes Jr sale that took place in the same space. This year's sale marked its own success with a painting by Gertrude Abercrombie (American, 1909-1977) titled "Pyramid and Moon" realizing $181,250 against a $10/15,000 estimate. The oil on canvas, signed lower left and dated 1946, measured 10¼ by 12½ inches and came from a Danville, Calif., estate. Abercrombie, based in Chicago, was called "the queen of the bohemian artists." She was involved in the Chicago jazz scene and was friends with musicians such as Dizzy Gillespie, Charlie Parker and Sarah Vaughan, whose music inspired her own creative work. For information, 978-927-2223 or www.kaminskiauctions.com.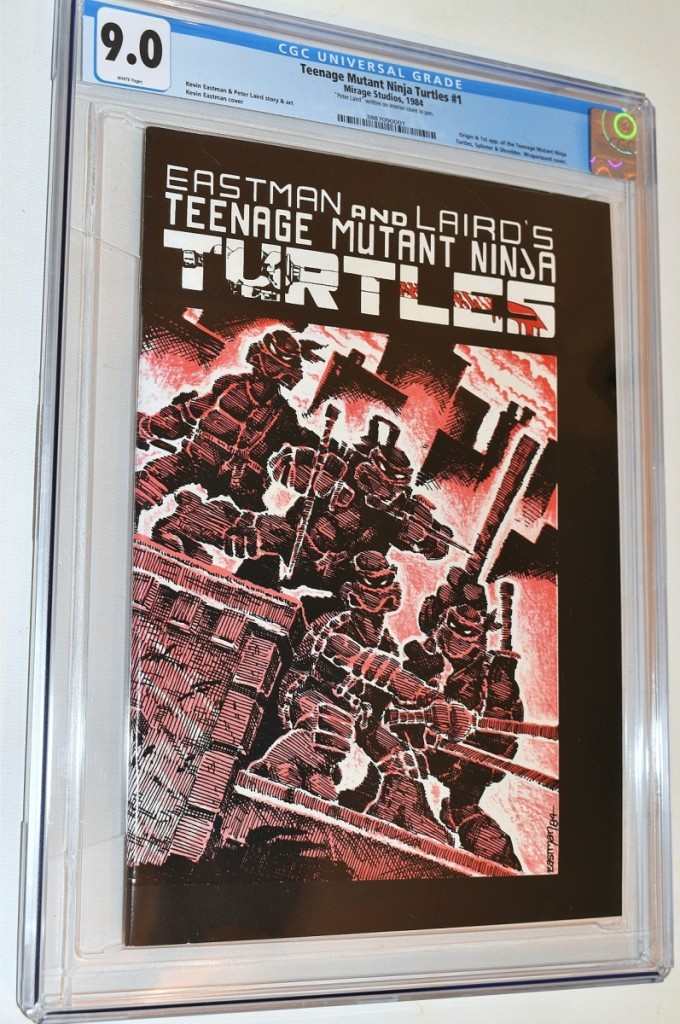 Cowabunga! Estateofmind Get $27,000 for 'teenage Mutant Ninja Turtle' Comic
MIDDLETOWN, N.Y. – Of the 602 lots that crossed the block at EstateOfMind on October 2, a 1984 Teenage Mutant Ninja Turtle comic book, with a CGC grading of 9.0, scored a ten with bidders. A comics and card collector/dealer from Texas, making their debut purchase with EstateOfMind, pushed it to $27,000. For information, 845-386-4403 or www.estateofmind.biz.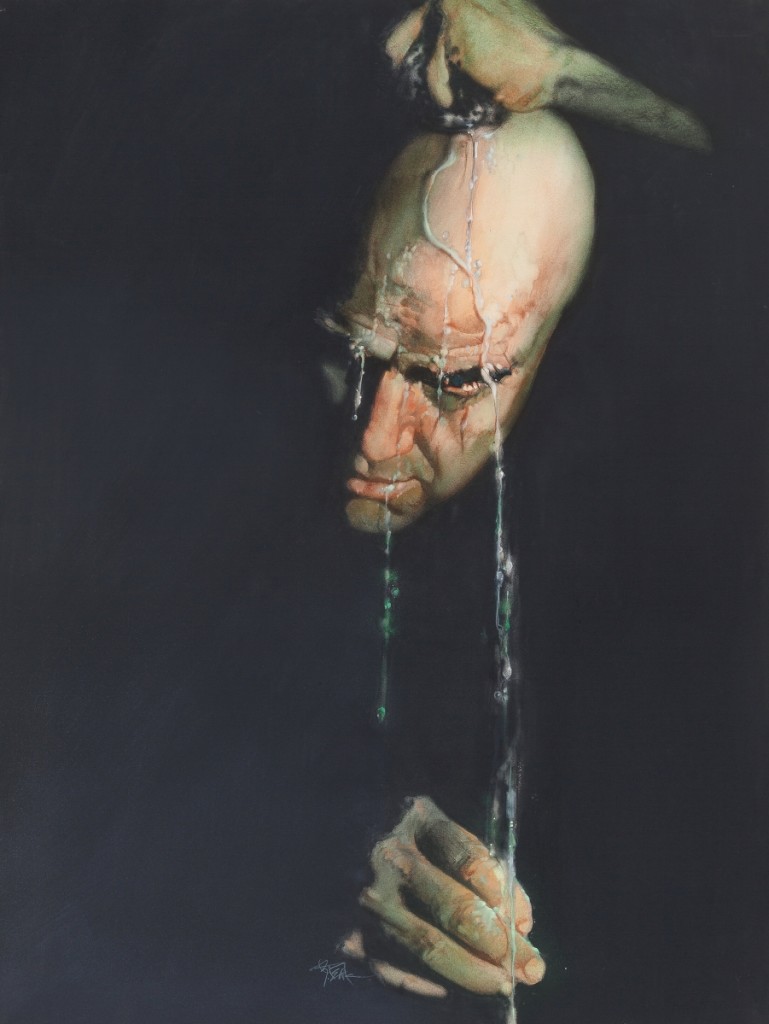 Heritage's Illustration Art Sale Peaks With Apocalypse Now Poster
DALLAS – A 1979 poster for the movie Apocalypse Now by Robert Peak (American, 1927-1992) brought $212,500 to lead Heritage Auctions' October 4 Illustration Signature Art sale. The mixed media 40-by-30-inch illustration was published as the final poster for the European release of the film. It was then later published for the trilogy of posters in the United States. The sale grossed $2,148,138. For more information, www.ha.com.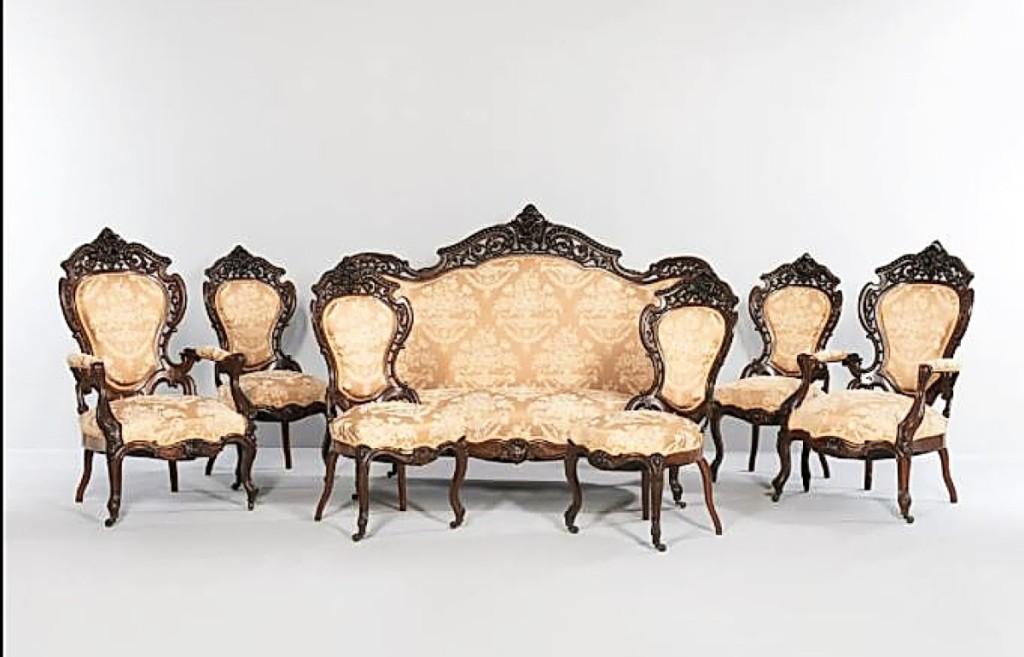 Seven-piece Victorian Seating Suite Sweetest at Skinner
MARLBOROUGH, MASS. – Skinner's October 7 sale, A Gilded Age: NE Collects Europe, merged two collections, providing a snapshot of eclectic Nineteenth Century tastes in furniture and decorative arts. The first was a selection from the Townshend estate of New Haven, Conn., which was occupied continuously by the Townshend family for more than 200 years. This collection included Victorian furniture, paintings and European porcelain. In addition, a collection from a New England institution featured Russian and Viennese enamels, art glass highlighted by Webb and Tiffany, bronzes and a selection of Asian works of art. Leading it all was a seven-piece suite of J.&J.W. Meeks Stanton Hall pattern rosewood seating, circa 1860, from the Townshend collection featuring a sofa, two armchairs and four side chairs, which brought $8,125. For information, 617-350-5400 or www.skinnerinc.com.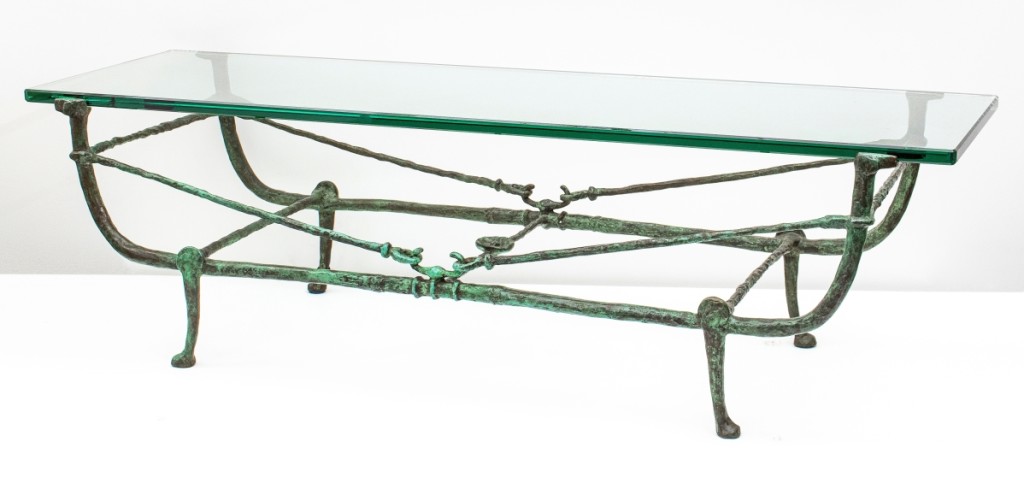 Showplace Bidders Ante Up for Giacometti Table
NEW YORK CITY – At Showplace's Important Fine Art & Design auction on September 10, a rare Diego Giacometti "Table berceau" second version with provenance from Jeffrey Hoffeld and Delorenzo Gallery brought $225,000. The modernist patinated bronze and glass table came to Showplace from a private Park Avenue collection. It was the highest price in a 145-lot sale that was more than 98 percent sold. For information, 212-633-6063 or www.nyshowplace.com.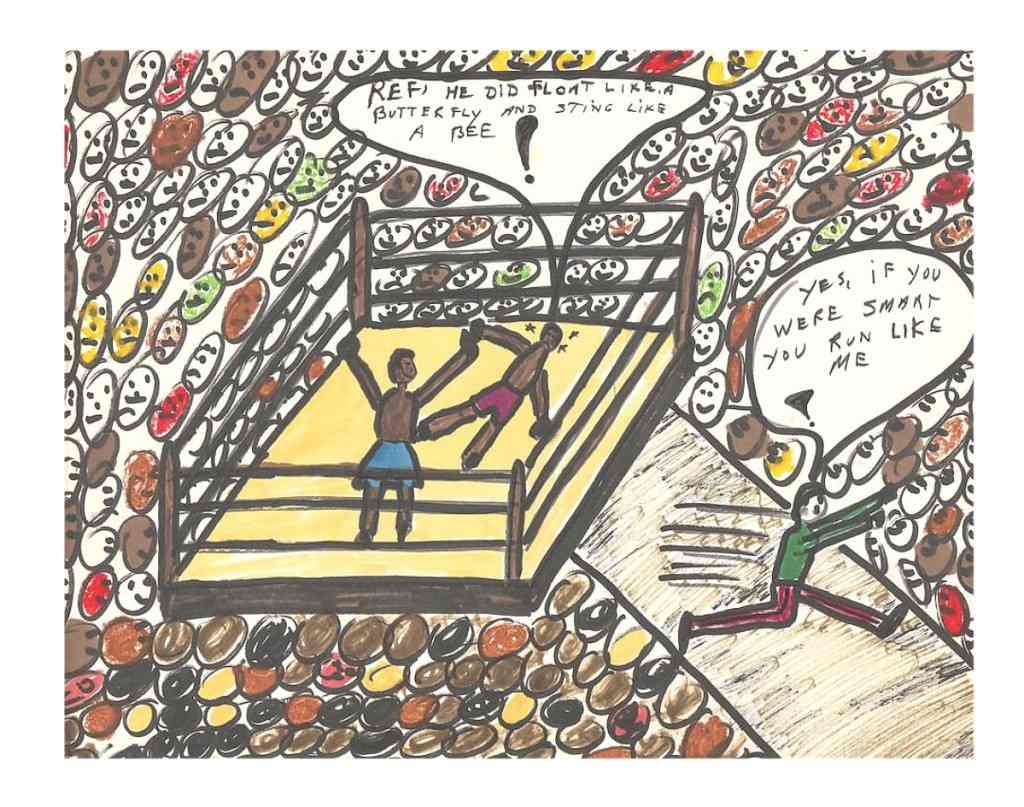 Muhammad Ali Painting Knocks Down Record
NEW YORK CITY- Bonhams set an artist auction record for boxer Muhammad Ali on October 5 when "Sting like a bee," a felt pen and acrylic work on paper, sold for $425,312. The painting was completed by Ali during the filming of Freedom Road in Natchez, Miss., 1978. It came to sale from the personal collection of Rodney Hilton Brown, a friend of the boxer and author of the 2021 title Muhammad Ali: The Untold Story: Painter, Poet & Prophet. For information, www.bonhams.com.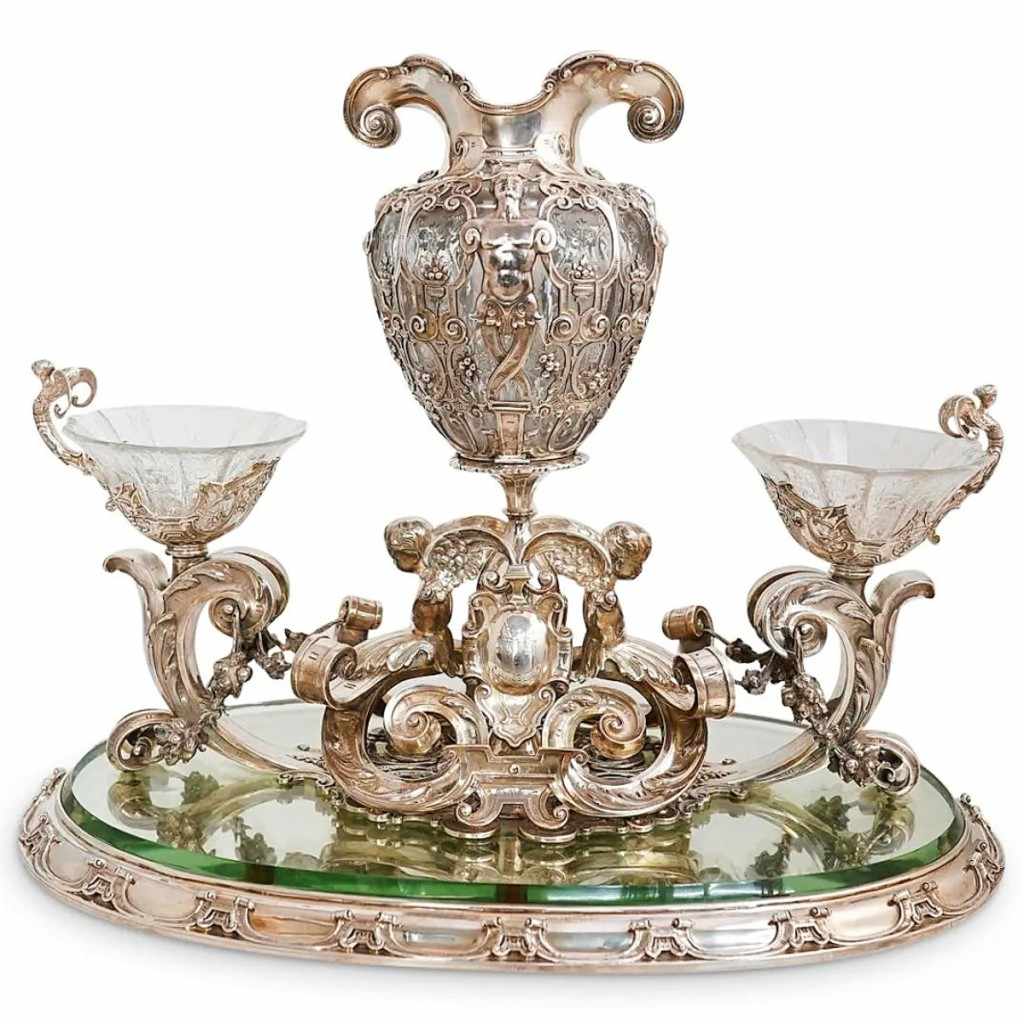 A Sterling Result for Farnham Centerpiece at Akiba
DANIA BEACH, FLA. – Hot off the accolades received from his Renaissance Revival coffee service at the 1904 World's Fair, Paulding Farnham continued to elevate the intricacy of his works for Tiffany & Co. A year later, Farnham would design this sterling silver centerpiece/plateau, which sold for $39,000 at Akiba Antiques' October 5 sale. The work features a figural centerpiece with flourishing strapwork, putti and caryatids. The whole sat on an oval mirror plateau and featured two cut-glass bowls. The auction house said Farnham was looking towards the work of Sixteenth Century artist Hans Holbein the Younger for the Renaissance style that would prove successful for Tiffany in the following years. For information, 305-632-5563 or www.akibaantiques.com.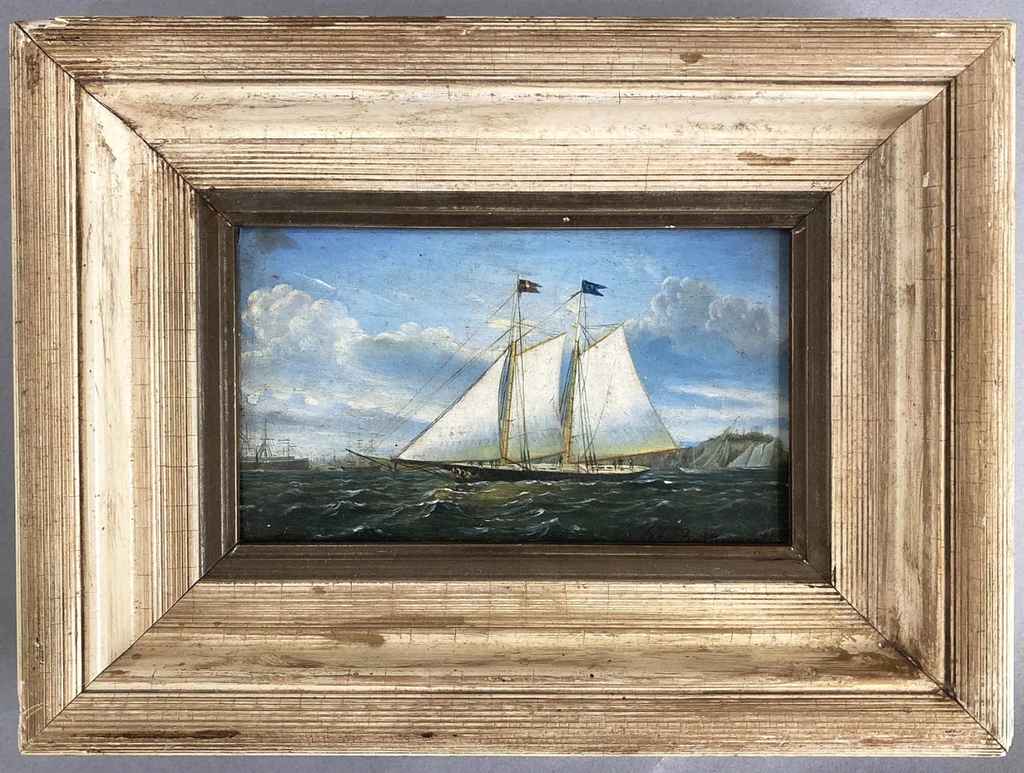 Buttersworth Sails Down Main Street
WOODBURY, CONN. – In his first online sale since 2018, Art Pappas of Main Street Auctions unloaded a diminutive James Edward Buttersworth sailboat painting for $9,000. The oil on board of a three-masted schooner measured just 4-1/8 by 7¼ inches and was signed lower right. The image captures the ship as it sails into harbor with other boats in the background. For more information, 203-233-1736.
Source
---
‹ Back