Across The Block 234
Severity of design was tempered with calming simplicity in the past few weeks' top lots. Jennifer Lee's studio art pottery bowl paired nicely with a Midcentury modern cabinet by Josef Frank, both multiplying their estimates. The classical was embodied with a Corinthian Hoplite helmet, and a Jose Formosa Nantucket backet represented classic Americana. Yet the highest achieving price of these was both ornate and practical: a beaded Kiowa dispatch case. Read on for more fantastic finds.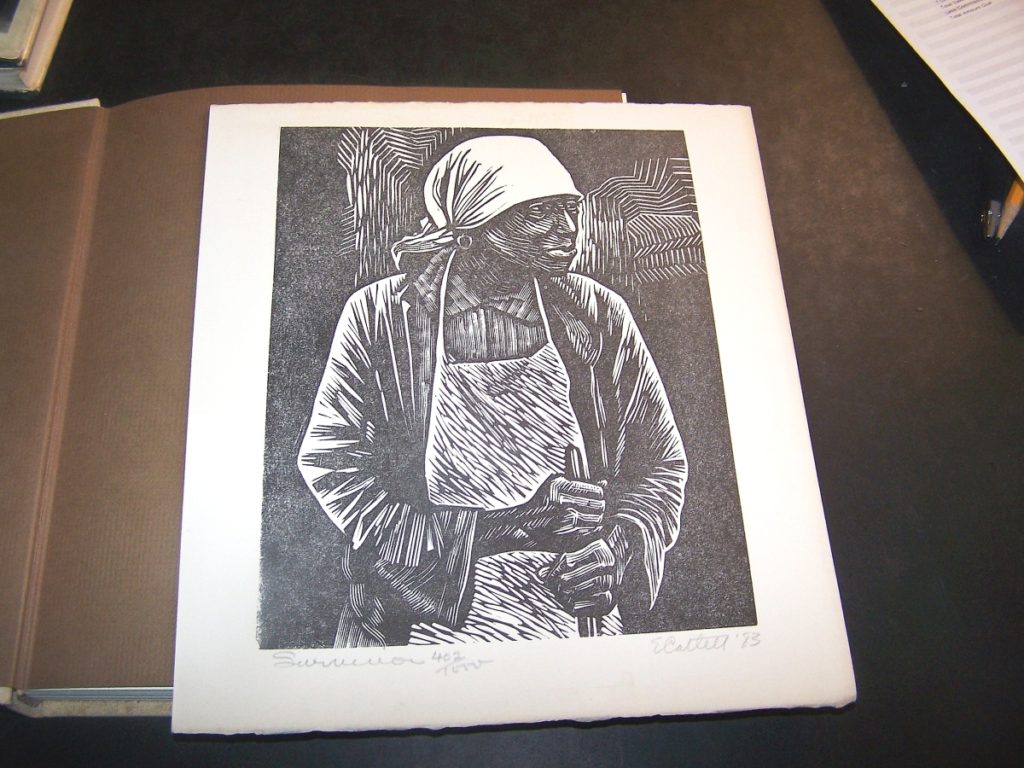 Elizabeth Catlett Book & Signed Print Reign at Connecticut River Book Auction
SOUTH GLASTONBURY, CONN. – The September 9 Connecticut River Book Auction saw serious bidding between an absentee bidder and an out-of-state phone bidder for The Art of Elizabeth Catlett, edited by Samella Lewis and with the signed "Survivor" print. The book and print well surpassed the reserve of $1,000 selling for $2,530. The African American graphic artist and sculptor was born in Washington DC in 1915 and is best known for her powerful depictions of Black women. The granddaughter of slaves, this remarkable woman transcended persistent racial discrimination to pursue a career as a gifted teacher and accomplished artist. For information, 860-908-8067 or www.ctriverbookauction.com.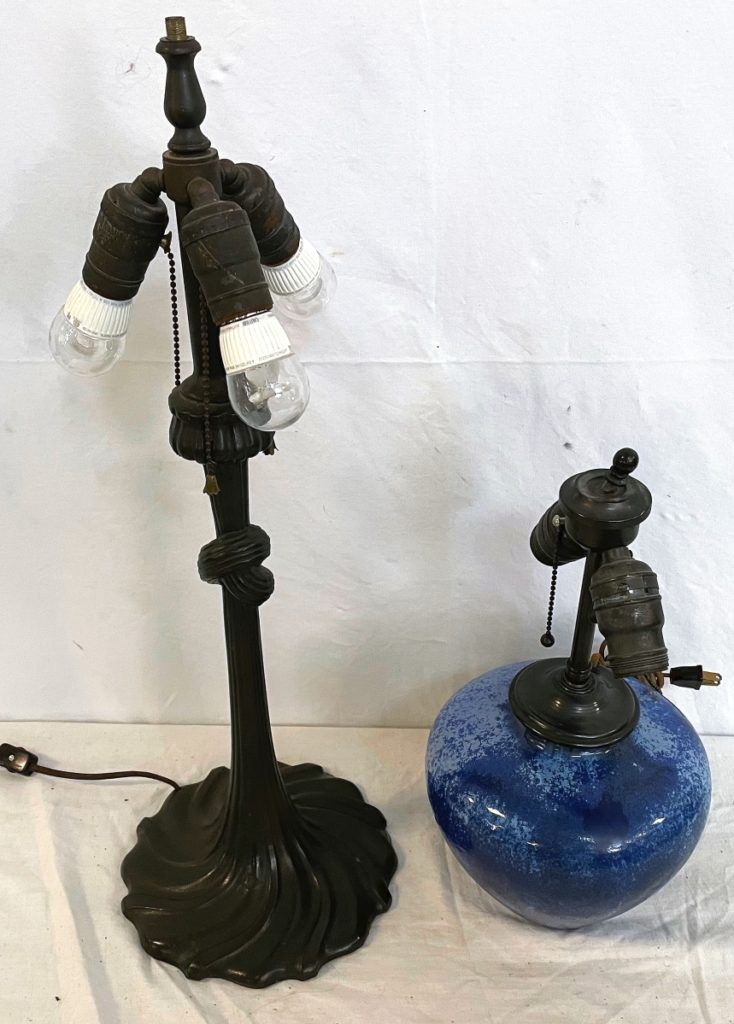 Lamps Light the Way at State Line Auction
CANAAN, CONN. – A large West Cornwall estate with period furniture, outdoor garden lots, lighting and country store items made for an interesting sale at State Line Auctions and Estate Services on September 11. Some notable results included two lamps – a pottery example and a bronze lamp lot (pictured), which sold for $2,829; a lot comprising four articulating lamps at $2,478 and a large lot of vintage Corgi toys that took $1,265. For information, 860-453-4370 or email statelineauctions@gmail.com.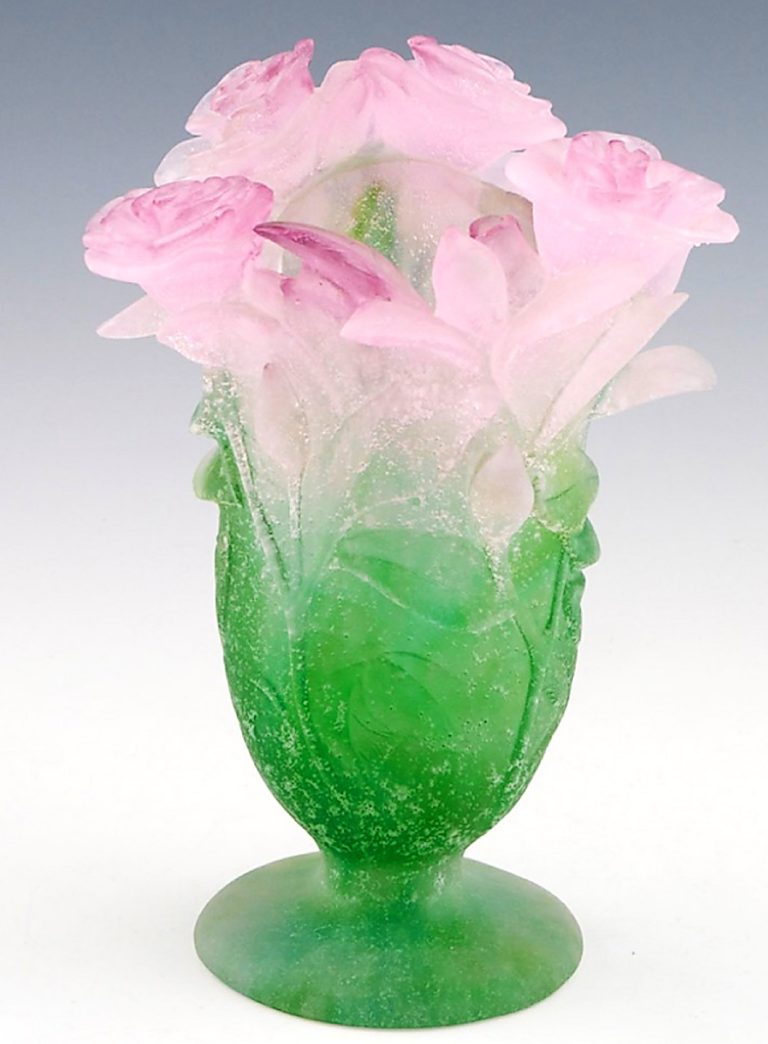 Collectibles 'R' US, Says SJ Auctioneers
BROOKLYN, N.Y. – A great collectibles auction was conducted by SJ Auctioneers on September 11 with many desirable and rare lots. Notable items across the block included a Daum pate de verre signed Rose Passion vase and box (pictured), which sold for $1,000. For Matchbox collectors there was a king-size fire engine K-15 and its original box going out at $175, a good buy considering its $500-$1,000 estimate. The firm is collecting consignments for its next auction. To consign, email sjauctioneers@gmail.com.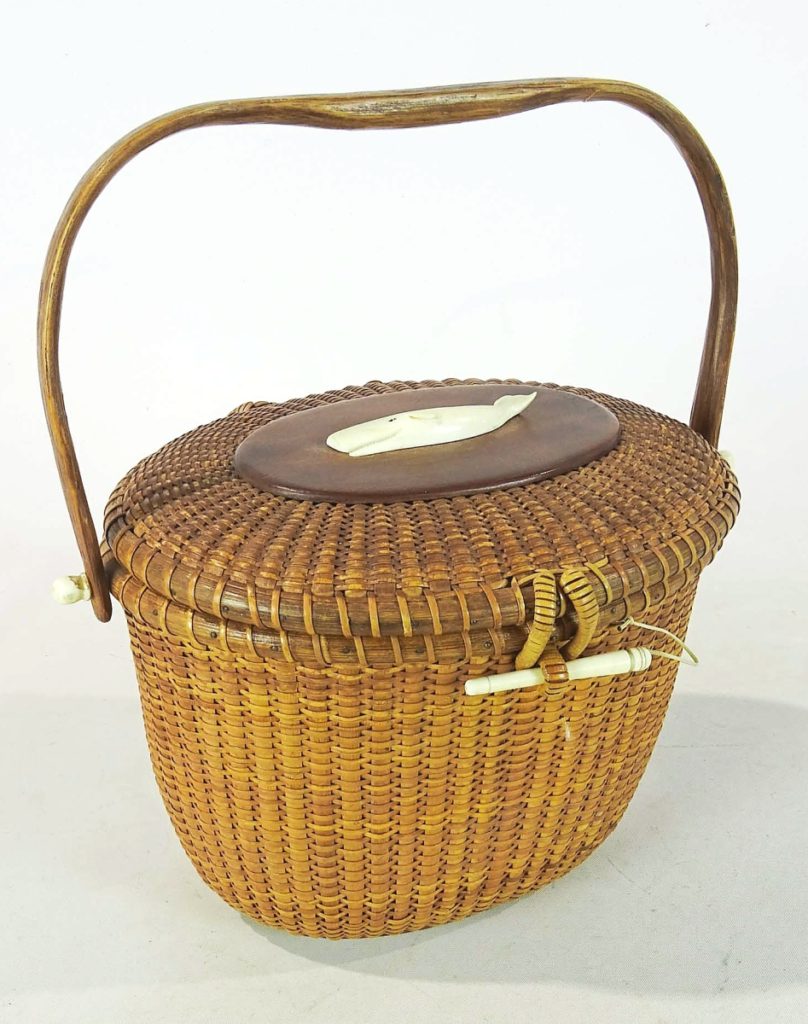 Jose Formosa Reyes Nantucket Basket Swings High at Copake
COPAKE, N.Y. – Copake's September 10 online estate auction featured 776 estate-fresh lots. Notable was a Nantucket basket, 9 by 7 by 7 inches, signed "Made in Nantucket Jose Formosa Reyes 1964," which found a buyer at $2,760, well above its $500/700 estimate. Nantucket baskets weave a story of Nantucket culture and history. In the mid-Nineteenth Century, using imported rattan, sailors began making baskets while in isolation. The early baskets were utilitarian in shape, either round or oval with a single handle. Three signature elements of the early baskets were the use of rattan, a mold for a precise shape and a solid wooden base. Perhaps one of the most well-known basket makers, Jose Formosa Reyes, came to Nantucket from the Philippines with a knowledge of basket weaving, and made more than 5,000 baskets from 1948 to 1978. For information, 518-329-1142 or www.copakeauction.com.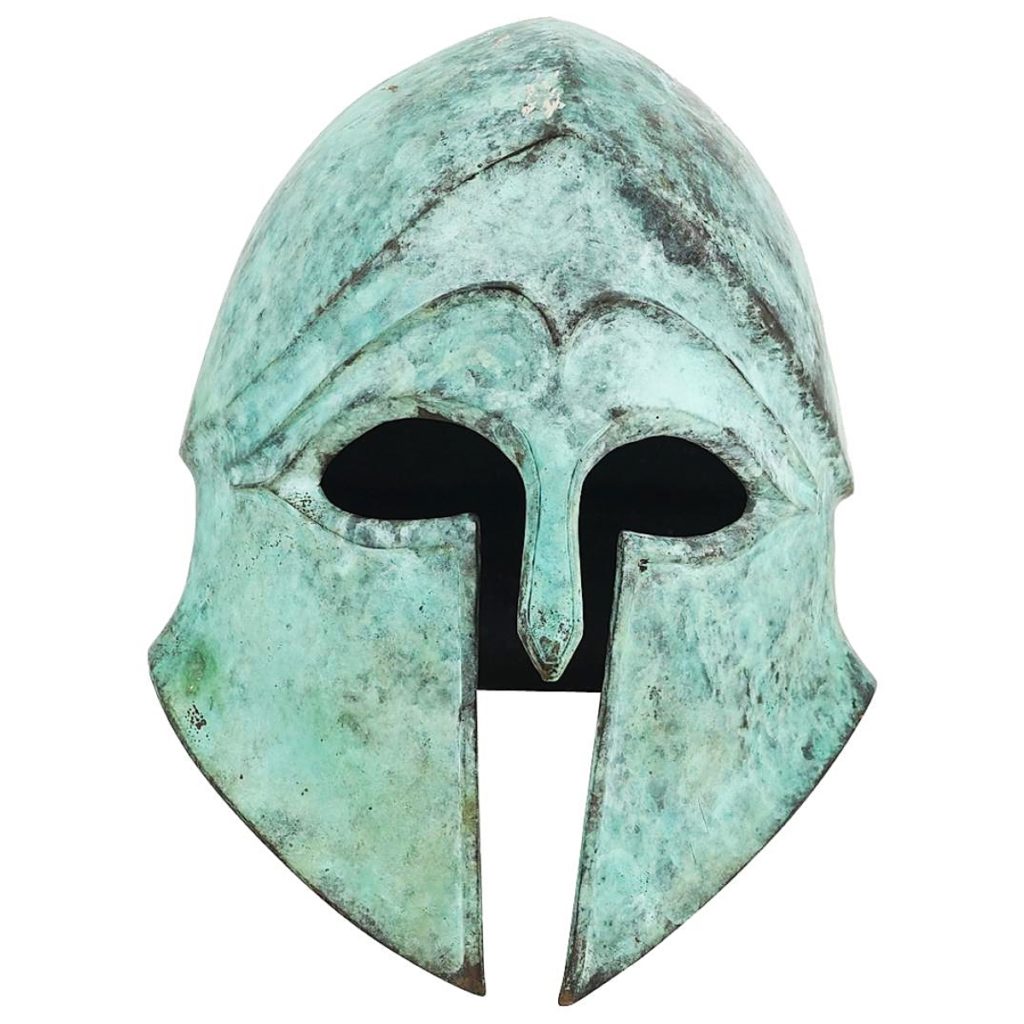 Ancient Glory Crowned at Akiba
DANIA BEACH, FLA. – Akiba Antiques' Blast From The Past auction on September 8 offered almost 600 lots from "eclectic collections worldwide," spanning all categories. The victor of this sale was a possibly ancient bronze Corinthian Hoplite helmet. It shows the protruding nose guard, molded eyebrows, a rear flange and flared cheekbones, with patina and scuffing consistent with age throughout. The helmet more than doubled its high estimate ($500-$5,000), selling online for $11,875. For more information 305-332-9274 or www.akibaantiques.com.

Dispatch From Hindman
CHICAGO – Hindman presented its fall auction of Native American art on September 9, with 254 lots of Eastern Woodlands and Great Lakes area material from the collection of Bob Streett, as well as Kiowa and Comanche beadwork, Puebloan pottery and paintings and objects from the Arctic. The top lot by far was a beaded Kiowa dispatch case from the late Nineteenth Century made from sinew-sewn commercial leather and sewn in an abstract floral pattern with glass beads, brass beads, tin cones and a German silver button. The case was sent off for $42,500. For information, www.hindmanauctions.com or 312-280-1212.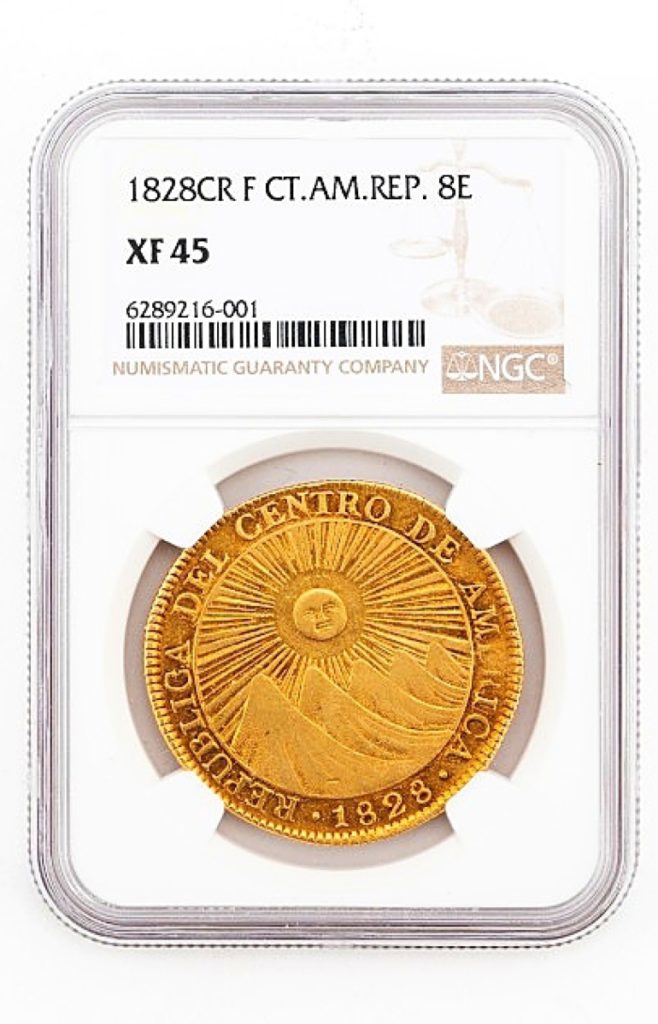 Costa Rica Coin Leads Doyle Auction of Kop Family Collection
NEW YORK CITY – Doyle's auction of coins, stamps, bank notes, sports collectibles and medals on September 13 showcased a wide selection of American and World rarities from prominent collections and distinguished estates in the New York area and other regions of the United States. Featured was the Kop family collection of Costa Rican coins and bank notes, the most notable of which was a Costa Rica, Central American Republic, F gold 8 escudos coin, which sold for $15,730. For more information, www.doyle.com or 212-427-4141.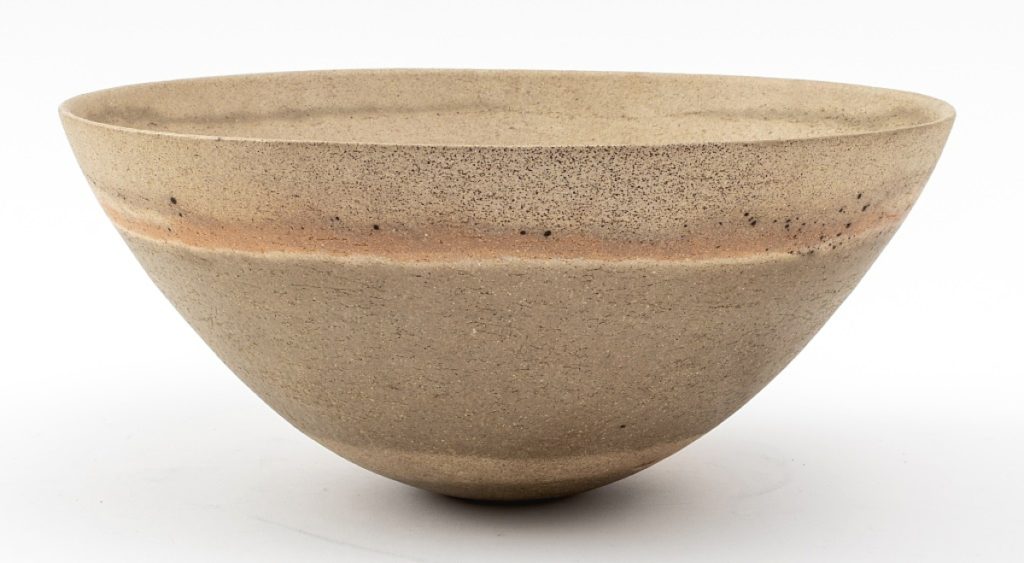 Studio Pottery Bowl Turns Well for Showplace
NEW YORK CITY – The top seller at Auctions at Showplace's September 11 sale was a modern studio art pottery ceramic bowl by Jennifer Lee (Scottish, b 1956), which had been estimated at $8/12,000 but sold to a bidder in the United Kingdom for $37,500. The 5½-inch-tall, 12½-inch diameter bowl had come from an Upper East Side townhouse and was one of 280 lots on offer in a sale that was more than 94 percent sold by lot. For additional information, 212-633-6063 or www.nyshowplace.com.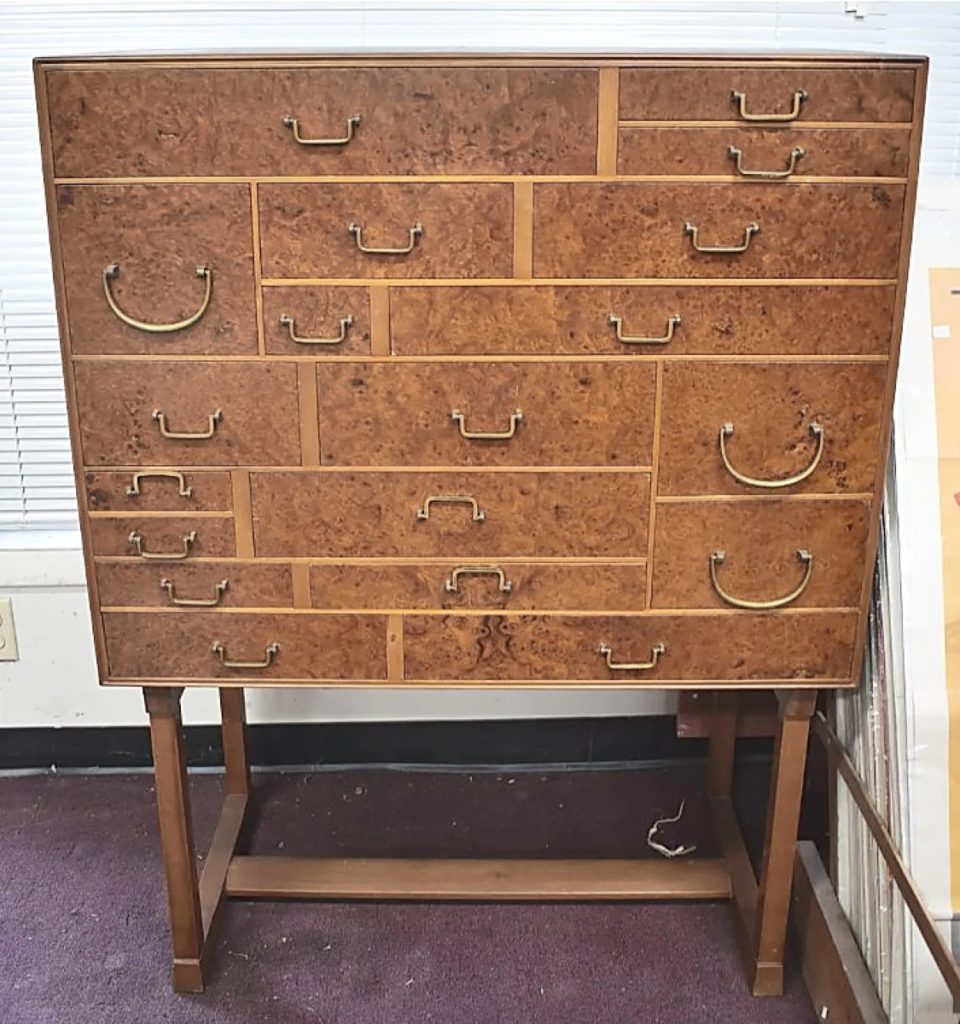 Credits Roll for Midcentury Modern at Mid-hudson Auction Galleries
NEW WINDSOR, N.Y. – Mid-Hudson Auction Galleries conducted an Estate Auction on September 10, heavily featuring the Richard Clark lifetime collection of movie posters from the 1860s to the 1940s. The sale also included works of art, objects, furniture and jewelry from multiple estates. At the top of the listings was a 19-drawer cabinet by Josef Frank (Austrian, 1885-1967), model 881. The cabinet was constructed for the furniture company Svenskt Tenn from maple and maple burl veneer and sold for more than ten times its high estimate online at $18,750. For more information, 914-882-7356 or www.midhudsongalleries.com.
Source
---
‹ Back