Guide to Noritake China Value and Patterns
Vintage Noritake Lusterware Punch Bowl Set (15 pieces). Sold for $260 via Akiba Antiques (July 2021).
Celebrated for its use of color, pattern, and design, Noritake china has undoubtedly become a prized possession for collectors worldwide. The revered antique dinnerware boasts colorful, hand-painted patterns across an array of tableware and servingware including serving trays, dinner plates, vases, and teapots.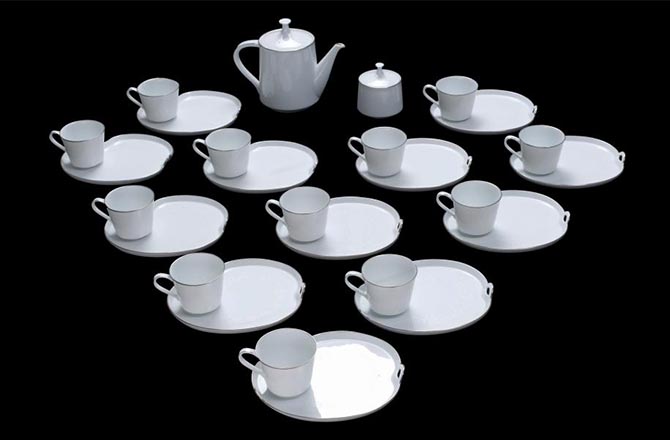 Set of cups and saucers for twelve, Noritake porcelain, Japan, 1950. Sold for COP 1,900,000 (circa $487) via Lefebre Subastas (September 2019).
Mass quantities of Noritake have been produced since its founding in the late 19th century, though quality and patterns have varied drastically over time in response to political and economic climates. The Great Depression on the 1930s and World War II directly affected Noritake's output, which makes each item from those periods uniquely treasured. Though Noritake china remains a difficult collectible to appraise, its value lies in the age and rarity of each individual piece. True Noritake china are some of the most exquisite, elegant ceramic pieces around.
Noritake China History
The history of Noritake china dates to 1876, when Japanese businessman Ichizaemon Morimura and his brother Toyo opened Morimura Brothers in New York City. Morimura, an ardent supporter of the modernization of Japan, saw an opportunity to appeal to the United States' market. At the time, Morimura Brothers sold Asian antiques and decorative arts and exported traditional Japanese wares. After early success, the brothers looked to other outlets they could pitch to American consumers. Though china and porcelain were popular, European factories already dominated the market by the late 19th century.
In 1889, Morimura visited the Exposition Universelle in Paris. There, he encountered the brilliance of French porcelain, which inspired him to create similar wares for the U.S. market. After studying manufacturing, he opened a factory in Japan called Nippon Toki Kaisha Ltd. in 1904. This allowed the brothers to control the quality and designs, ensuring their aesthetic aligned with American buyers' tastes. In 1914, they created their first Western-style dinner set, named Sedan, to compete with European porcelain.
It didn't take long for the Morimura Brothers to pique Western interest. Each piece was hand-painted to ensure the highest quality. These early, hand-painted patterns were produced in smaller quantities and therefore are among some of the rarest collected today. In the 20th century, political and economic conditions restricted production and changed the direction of the company on more than one occasion. But the adoption of mass-marketing techniques and demand from global consumers allowed Noritake to continue their success.
Although consumers referred to the dinnerware as "Noritake" as early as the 1920s, the company didn't officially assume the name Noritake Co., Limited until 1981. The company was restricted from using it as a trade name, stating in their own marketing materials that "Because Noritake is the name of a place, that word could not be officially registered as a trade name. However, because of the consistently high quality and reliability of our products, we were finally given permission to register the name." Today, they still produce dinnerware that is new, contemporary in design, and consistently in demand.
Noritake China Patterns
Noritake continues to produce china today, offering contemporary patterns and designs, though the oldest and rarest Noritake china patterns remain the most valuable examples in the market. Noritake china patterns can be found on a variety of decorative wares, including pitchers, platters, gravy boats, and dinnerware. It is unclear exactly how many patterns have been produced by the maker to-date, but there are a few examples that attract collectors and are instantly identifiable as Noritake.
Azalea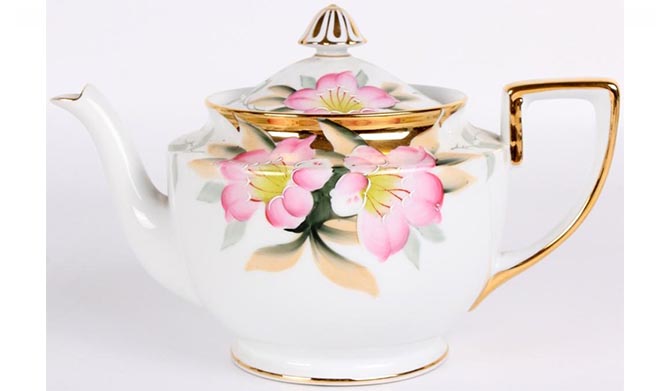 Teapot from Noritake Azalea set of thirteen pieces. Sold for $45 via Florida Estate Sales Inc. (April 2021).
Noritake's most popular pattern, Azalea, was produced somewhere between 1915 and 1930. Like the name suggests, the pattern featured painted pink flowers on a white background with gold detailing around the edges and handles. The Azalea pattern was used on everything from teapots to table sets to children's pieces. Noritake's Azalea was only sold through the Larkin Company catalog out of Buffalo, New York, which gifted the pattern to club members. This proved to be a profitable partnership for the Noritake company as it helped their products reach millions of homes and solidified their reputation in the United States. Azalea-patterned fine china is widely collected to this day. Some of the rarest items include the bulbous vase, pancake jug, china ashtray, and 15-piece child's set.
Tree in the Meadow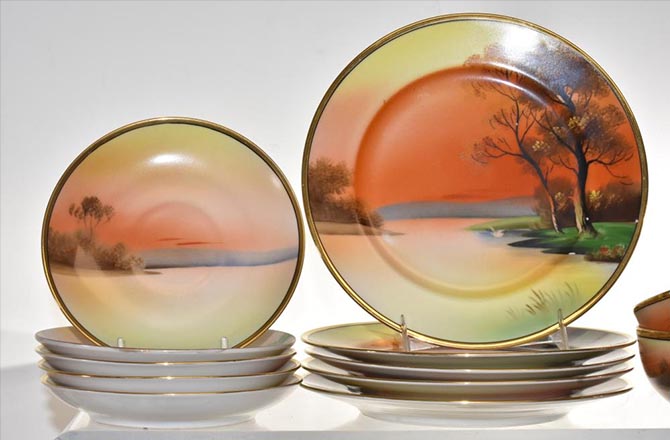 Noritake "Tree in the Meadow" Tea Set (21 pieces). Sold for $40 via Keystone Auctions LLC (February 2020).
Produced in the early 20th century, another popular Noritake china pattern was Tree in the Meadow (sometimes referred to as House by the Lake). It was originally named "Scenic," which was fitting for its intricate, hand-painted tree beside a house, meadow, or other picturesque landscape. The pattern adorned plates, bowls, waffle sets, jam jars, butter dishes, among other decorative wares. Many of the antique examples sell for around $20, but rarer items can reach the hundreds.
Pattern 175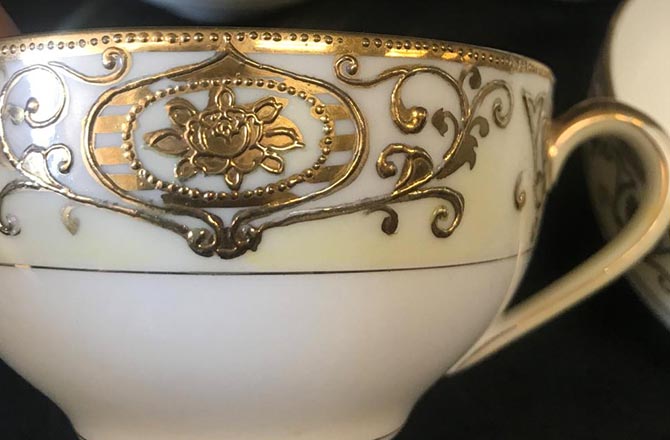 Noritake 175 Pattern tea cups and saucers (set of 12). Sold via 55 Penn Ave Gallery (November 2018).
Aptly referred to as the "Christmas Ball" collection, Noritake's Pattern 175 was produced for about 90 years, beginning around 1906. This design had a lavish look and feel, but was popular among the middle class for its accessible price-point. The pattern featured raised gold enamelling in a scrolling pattern with flowers in a ball or bulb form against a white background. The gold tracery offered a touch of exuberance.
Lusterware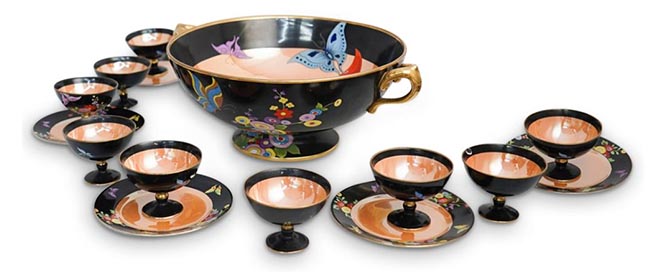 Vintage Noritake Lusterware Punch Bowl Set (15 pieces). Sold for $260 via Akiba Antiques (July 2021).
Considered less of a pattern and more of a glazing technique, Noritake lusterware was one of their most popular and important developments in the 20th century. Lusterware was achieved by adding a metallic oxide over a base color. The thin metallic overglaze created an iridescent, rainbow-like glow that appealed to many, especially at the beginning of the Roaring Twenties and the years following the Great Depression. Noritake lusterware can be found in orange, blue, white, gold, as well as other colors, and was featured on a variety of objects.
Imperial Collaborations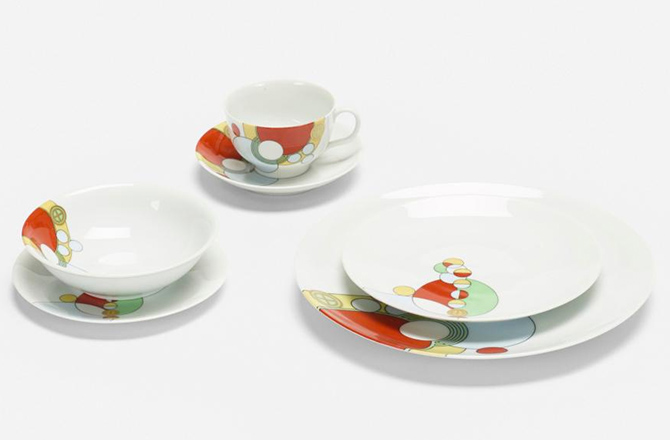 Frank Lloyd Wright, Imperial Hotel dinnerware. Sold for $13,000 via Wright (June 2019).
Frank Lloyd Wright was commissioned to design the Imperial Hotel for the Imperial household of Japan in 1913, including the design for the dinnerware, produced around 1920. And in 1984, the Imperial Hotel and Noritake Company resumed production of Frank Lloyd Wright's Imperial Hotel dinnerware for a short period of time. The asymmetrical geometric pattern is an arrangement of overlapping circles. A strong red circle dominates the design which is foiled against the simple white porcelain background and is surrounded by a pale yellow band. Adjacent are pastel blue and green circles. The Imperial Hotel logo is at the top of the design in 18k hand-painted gold. The red circle and yellow band extend into the bowl of the cup.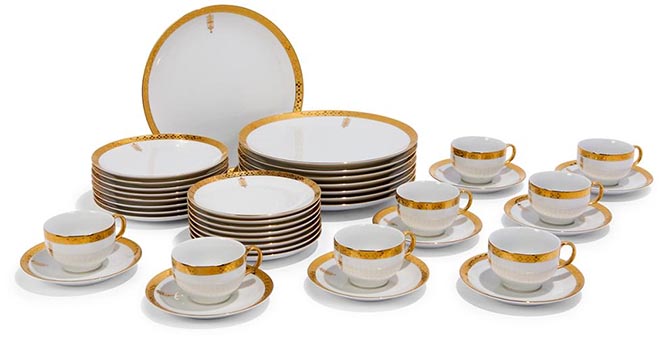 Frank Lloyd Wright for Noritake Imperial Hotel Collection china dinner service (40 pieces) retailed by Tiffany & Co. Sold for $5,000 via Toomey & Co. Auctioneers (March 2019).
A later set was produced again in collaboration with Frank Lloyd Wright and retailed by Tiffany and Co featuring a simple gilt design.
Noritake China Value
Assessing the value of Noritake china takes time and research. There are ambiguities surrounding this antique porcelain, and a loss of extensive records during World War II only furthers the confusion, so knowing where to start can be daunting. Aside from physical condition, age is one of the biggest factors that determine the value of Noritake china.
Age
To pinpoint the age of a piece, start by identifying the backstamp, or maker's mark, usually found on the bottom of the object. Certain backstamps were used during different periods in Noritake china's history, so this hallmark is an important factor in the appraisal process. Though there were a variety of backstamps used, some of which overlapped over the years, they provide a general sense of the period from which your antiques originated. For example, until 1921, porcelain was marked with its country of origin to comply with the U.S. McKinley Tariff Act of 1890. This law changed in 1921, requiring the place of origin be marked in English, so stamps were changed from "Nippon," a more formal translation of the country's name, to "Japan" or "Made in Japan.

"
Japanese Nippon 3 Piece Grouping, Washington DC Set of Noritake China. Sold for $90 via Chandler's International Auction (July 2016).
After World War II, Allied troops occupied Japan. From around 1948 to 1952, Noritake stamps featured "Occupied Japan" or "Made in Occupied Japan." Also during this time, due to an inability to maintain quality standards, the company ceased using the name "Noritake" and used "Rose China" alongside a rose with "Made in Japan" or "Made in Occupied Japan."
Stamps
There are over 400 known Noritake backstamps with a variety of patterns, so it's difficult to identify the exact date of origin for many collectible Noritake sets. However, the three most common marks used for extended periods are Noritake Maruki Marks (often called Komaru), M in the Wreath Marks, and RC (Royal Crockery) Marks. To help establish the age and potential value of your Noritake china, consult the backstamp guide below.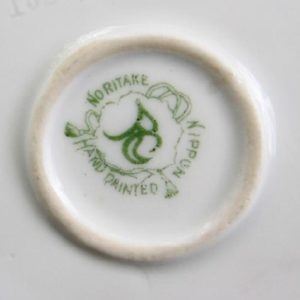 Stamp: Noritake RC
Date: ~1911
Auction: Nippon Pre 1921 Royal Crockery, sold via Estate Road Show Auctions LLC
The first Noritake stamp registered in 1908 had a series of circular marks with RC drawn on top and Noritake on the bottom in an Art Nouveau style. The monogrammed version shown here appeared in Japan a couple years later.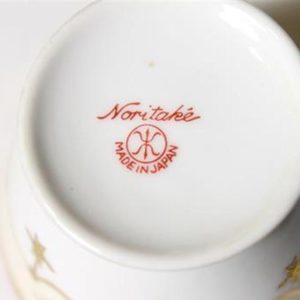 Stamp: Maruki Symbol
Date: ~1908
Auction: An early Noritake Tea Set for ten, sold via Theodore Bruce
Includes a tree, later changed to spears to symbolize breaking through obstacles, and a circle for peaceful settlement of problems.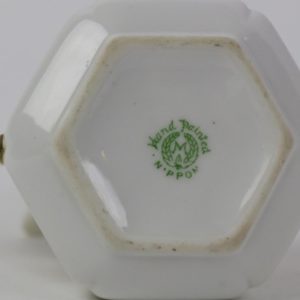 Stamp: M in the Wreath
Date: 1911
Auction: Japanese Nippon 3 Piece Grouping Washington, DC Set, sold via Chandler's International Auction
Large, gold "M" encircled by a wreath. This "M" stood for their namesake, Morimura, and was used until World War II.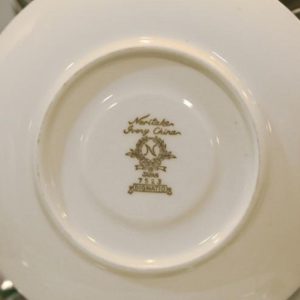 Stamp: Noritake Company Ltd
Date: ~1963
Auction: Group of fine porcelain teacups, saucers, plates, sold via WR Auction Gallery Inc
Gold with the lamp logo and crossed laurel branches. This often featured an "N" for Noritake in the center with the word "Noritake" above and "Japan" underneath.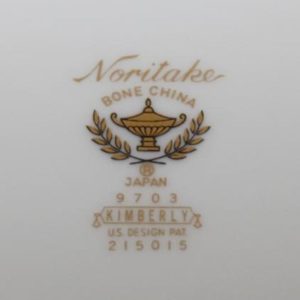 Stamp: Noritake Bone China
Date: Present
Auction: Noritake bone china serving plate, "Kimberly" pattern, sold via Ardent Auctions
Features the words "Noritake Bone China" written above a Grecian style urn within a wreath with "Japan" written underneath.
Rarity
The oldest Noritake china is the most valuable and rare. During the beginning of the 19th century, not many examples were produced, so their hand-painted features are in-demand. Some of the rarest items include bulbous vases, pancake jugs, china ashtrays, and even children's sets.
Today, Noritake remains one of the largest manufacturers of china and porcelain, with production facilities all over the world. They have expanded to produce stainless flatware and crystal. This type of mass-distribution has made it difficult to distinguish between a true antique and more common wares, which makes comparing the backstamp crucial for determining the general value of your object.
Condition
While condition is important when determining the value of your Noritake china, rarity can sometimes eclipse this. Rare pieces have intrinsic value despite ware and tear, though the same piece in better condition can appraise for more. Those in the best condition have:
Little-to-no cracks or chips
Scratch-free surfaces or very few scratches
Complete and clear backstamps
Patterns that aren't faded or marred
Noritake continues to be a valuable collectible for china and porcelain enthusiasts. The fascinating history of the company and their practices only furthers the complexities and mysticism that surrounds these sought-after Japanese antiques. If you're unable to ascertain the time in which your Noritake was produced, consult an appraiser and compare it with comparable items from price databases.
Wondering what your Noritake china is worth? Click here to have it appraised by experts.
Sources | Michelle Knows Antiques | Noritake Collectors Guild | LoveToKnow
Source
---
‹ Back