Leonardo Nierman (Mexican b. 1932)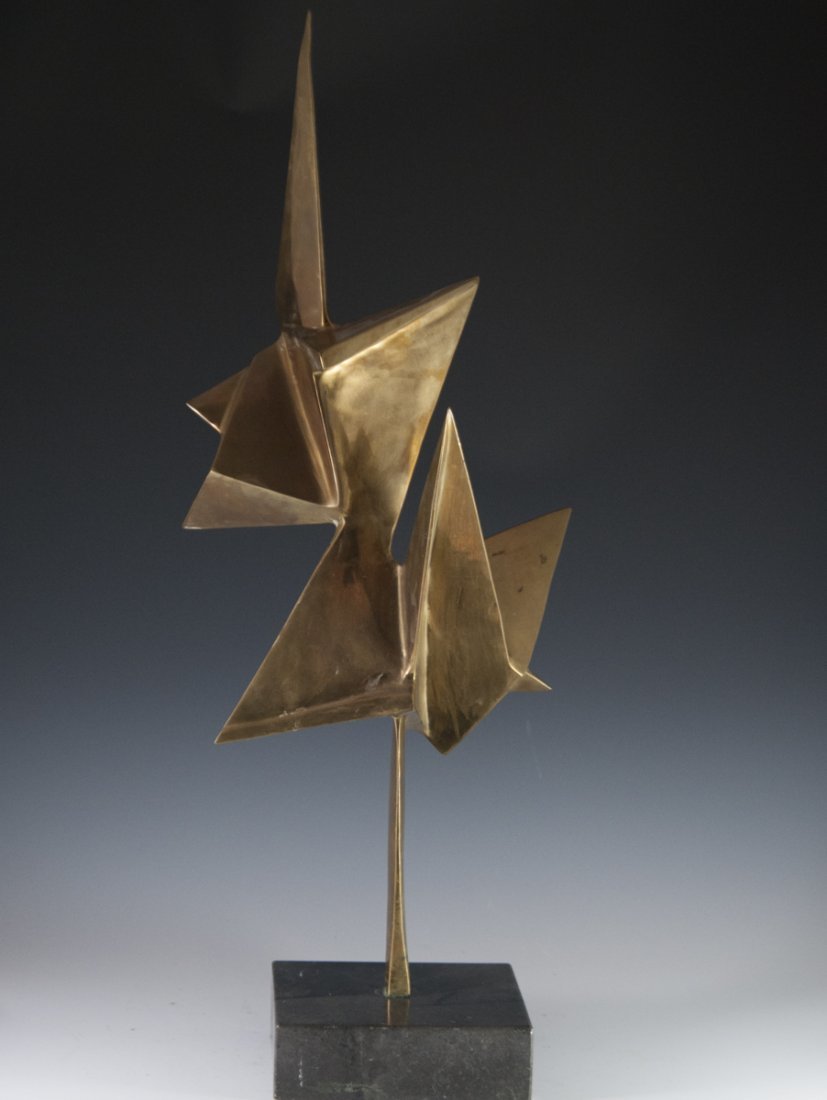 If you have been following our recent featured item blogs, you may have seen the array of Mexican art curated for our November 9th sale.
You may also be wondering where we acquired such a collection! Our consignor's mother, who was from Mexico was a wealthy doctor in the region, who always sponsored Mexican art, often purchasing them before they were even famous. The vast majority, if not all of the contemporary, Mexican art has been acquired from this estate.
This exquisite bronze sculpture titled:"Sensacion de Vuelo" features an abstract design in which Nierman attempts to depict the "Sensation of Flight". Decorated in a metallic gilded hue and signed:"Nierman I/VI". Includes original certificate of authenticity from the artist himself.
More About the Artist:
Leonardo Nierman was born in Mexico City, 1932. Throughout his urban upbringings in the city, Nierman wanted to begin an artistic career in Music but took on abstract painting and sculpture instead. Although taking on art, Nierman sees many similarities between music and art and often blends them together, as seen in many of his artworks that depicts abstract violins amongst astral back drops.
Nierman's first exhibition was at the Centro de Deportes Israeli in Mexico City, invited by Raquel Tibol. Two paintings were eventually sold of his, which highly motivated him to continue as an artist dwindling in career starting anxiety. Once these two paintings were purchased, they were seen by the owner of the IFA Gallery in D.C. who since 1959, has exhibited his work.
Since then, he has had over 100 exhibitions in the Americas, Asia, Australia and Europe.
List of Exhibitions:
1962 Exhibition: Museum of Modern Art, Halfa, Israel
1963 Exhibition: Gallerie Schneider, Rome, Italy
1964-Receives the Mexican Contemporary Art Prize, Art Institute of Mexico, Mexico, D.F.
1965-Becomes a Life Fellow of the Royal Society of the Arts, London, England
1967 Exhibition: Judah L. Magnes Memorial Museum, Berkley, California
1968 Exhibition: Pucker Safrai Gallery, Boston, Massachusetts
1969: Paints a mural for the Physics Building, Princeton University, Princeton, New Jersey Receives Palm D'Or Des Beaux Arts, Monaco Exhibitions: Galeria Katia Granoff, Paros, France Galeria Mer-Kup, Mexico, D.F. Mexico
1970 Exhibition: Alwin Gallery, London, England Receives Silver Medal, Tomasso Campanella, Rome,Italy Receives Royce Medal, New York, New York
1971 Exhibition: El Paso Museum of Art, El Paso, Texas
1972 Exhibition: The Museum of Modern Art, Mexico, D F. Mexico
1973 Exhibitions: Los Angeles Municipal Gallery, Los Angeles,Cal. Welly F. Galleries, New York, New York Museum of Contemporary Arts, Madrid, Spain
1974 Exhibitions: Galerie Dresdnere, Ontario, Canada Casa de la Cultura, Cucuta, Columbia
1975 Exhibitions: Museum of Contemporary Art, Bogota, Columbia Merrill Chase Galleries, Chicago,Illinois B. Lewin Galleries, Los Angeles,Cal.
1976 Exhibition: Museum Of Contemporary Art, Bogota, Colombia Receives the award Diploma D'Honneur of Fine Arts In Monaco, 1977
1977 Exhibitions: B. Lewin Galleries, Los Angeles, California I.F.A. Galleries, Washington, D.C. Merrill Chase Galleries, Chicago. Illinois
1978 Exhibitions: Harcourts Gallery, San Francisco, California Institute Panameno de Arte, Panama, Rep. de Panama
1979 Exhibitions: Fondation Veranneman,Belgium American Museum, Hayden Planetarium, New York, NY Cumberland Museum of Science Center,Nashville, TN Fernback Science Center, Atlanta,Georgia Dallas Health and Science Museum,Dallas,Texas McDonald Planeterium, St. Louis, Missouri
1980 Exhibitions: Nahan Gallerles, New Orleans, Louisiana Broward Galleries, Pompano Beach,Florida Museum of Science and Industry, Chicago, Ill. Palcio de la Virreina, Barcelona, Espana Receives Gold Medal from the Chicago Art League
1981 Exhibition: Gerhard Wurzer Gallery, Houston, Texas
1982 Exhibitions: Galerla de Arte Misrachi, Mexico, D.F. California Museum of Sclence and Industry, Los Angeles, California Receives Golden Centaur from Accademia Italia Receives Diploma Master of Painting Honoris Causa" from Academia, Italia%FD
1983 Receives the Gold Medal awarded by the Internatlonal Parliment for Safety and Peace U.S.A. Italy
1984 Becomes "Accademico D'Europa" awarded by Centro Studi di Ricerch L'Accademia D'Europa, Italy Exhibitions: Museo de Arte e Historia, Ciudad Juarez, Chihuahua,Mexico Centro de Artes Visuales e Investigaciones Esteticas (Museo de Saltilo) Saltilio Coahuila, Mexico Barbara Gillman Gallery, Miami,Florida, The M.I.T. Museum, Boston, Massachusetts
1985 Receives Prize "European Banner of Arts", Italy Receives "OSCAR D'ITALIA" award, Italy
1986 Winner of the The World Wide Competition to do a sculpture for the University of Central Florida,Orlando
1987 Exhibition: Merrill Chase Galleries,Chicago,Ill. Museo de Arte Costarricense, C.A.
1988-Art Center Galleries – Hawaii Inc. "FLARE OF HOPE" Bronze for the Birmingham Museum of Art Alabama. "PEACE" bronze for the Mexican National University,Mexico, City "FLAME OF WISDOM" stainless steel Sculpture for the Yeshiva University, New York,N.Y.
"GUBELIN" for the Hebrew University of Jerusalem – Sherman Building, Mount Scopus.
1989 "GENESIS" tapestry l80 square feet for the Concert and Opera House in Salzburg. Gubelin "EQUINOX"for the Mexico National University, Mexico City
---
‹ Back