Magnificent 1885 Hamburg Steinway Baby Grand Piano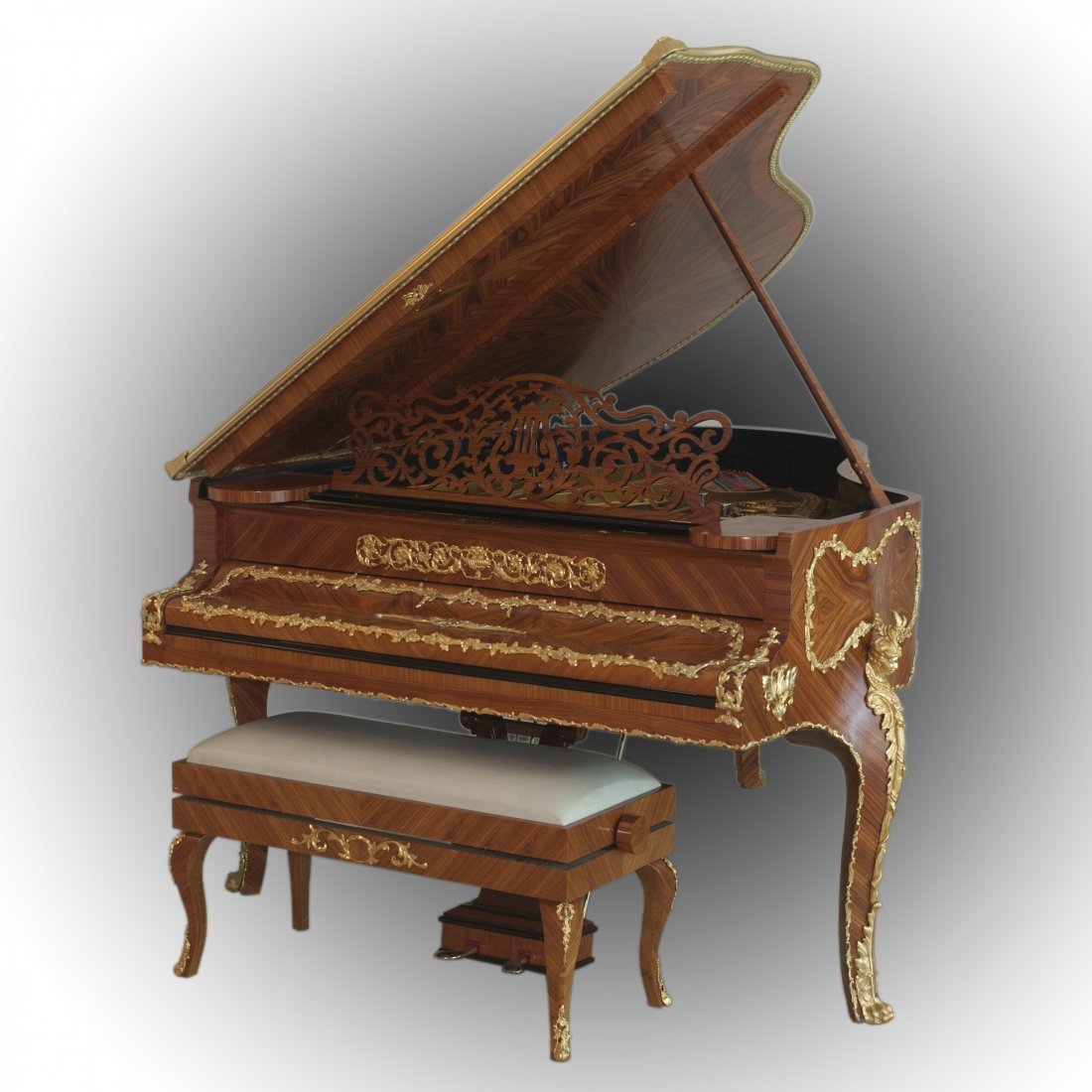 Now available for bids for our upcoming September 21st sale, is this spectacular 1885 Hamburg Steinway Baby Grand Piano.
DESCRIPTION:Model 53108 Grand A 85. This Steinway & Sons Model A Baby Grand Piano #53108 was built in Hamburg in 1885 and shipped to Steinway & Sons London the same year. In March 1885 the piano was leased to Lady Arthur Hill whose husband was Lord Arthur Hill, a member of Parliament and the Comptroller to the British Royal Family. The next record that Steinway has is it was repaired in Hamburg in 1905 for Rev. J.L Bennett of Winchester. The next thing we know about the piano is it was shipped to Italy in 2007 by an auction house in Utica, NY where it was customized by Italian Cabinet makers C.G. Capelletti. Capelletti plated the piano with King Wood, overhauled the mechanics and added gold gilt brass ornamentation. it has a bright tonal sound with a fairly light to moderate action. The piano has very unique vertical strings that are original. Its The legs are not retractable so the piano must be moved in one piece. The bench is included. Paper work proving the age and authenticity from Steinway is availab
le. **NOTE: This piece was sold in our June 21st sale, but never paid for by the buyer. **
CIRCA:19th Ct.
ORIGIN:Germany
DIMENSIONS:81″ x 66″ x 40″
CONDITION:Excellent condition.
Now available bids on the following bidding platforms:liveauctioneers.com, and invaluable.com as lot number 195.
For telephone and absentee bidding, feel free to contact us at info@akibaantiques.com, call us at 3056325563, or visit our websiteakibaantiques.com for information on how to bid.
---
‹ Back