Timeless Perfumes and Collectible Vintage Scents
Hundreds of new perfumes are launched every year; it's easy to become a little overwhelmed when trying to select a new scent. Are you floral or woody? Where do you stand on a strong oudh? The wealth of choice can make you dizzy. Perhaps this is why the perfumes we've come to know as timeless classics remain consistently popular.

Andy Warhol, 'Chanel No.5', 1997 (4 lithographic prints). Sold for £5,300 via Tate Ward Auctions (June 2020).
A timeless fragrance, such as the enduring Channel No 5, carries with it certain connotations. Whether it's the glamor and style of its namesake, Coco Chanel, or its way of making the wearer feel a little risqué and alluring, perfumes like this outlast the passing olfactory fads. A classic scent complements your personality and style and is immediately recognizable. It's distinctive, but taps into something universal in its appeal and transcends generations.
The 20th century saw much change in the world of perfume: certain smells took on gendered connotations, often understood to be more masculine or more feminine. And scientific innovation considerably advanced the art (or science) of perfume-making – perfumers now had hundreds of man-made scents to play with, and more affordable (and often more ethical) synthetic takes on traditional natural ingredients.
Notes for your nose
A well-balanced fragrance is considered to have three main notes that take the wearer on a journey from an initial impression to a comfortable "dry down" (when the fragrance beds in on your skin).
The top notes are what you smell as soon as it hits your skin (you may still need to wait a few minutes for any lingering smell of alcohol to pass). Think of these as an introduction to the perfume. They're there to give the wearer a reminder of the power of perfume, and for this reason, they often lack subtlety. But just as you shouldn't judge a book by its cover, you shouldn't judge a perfume by its top notes.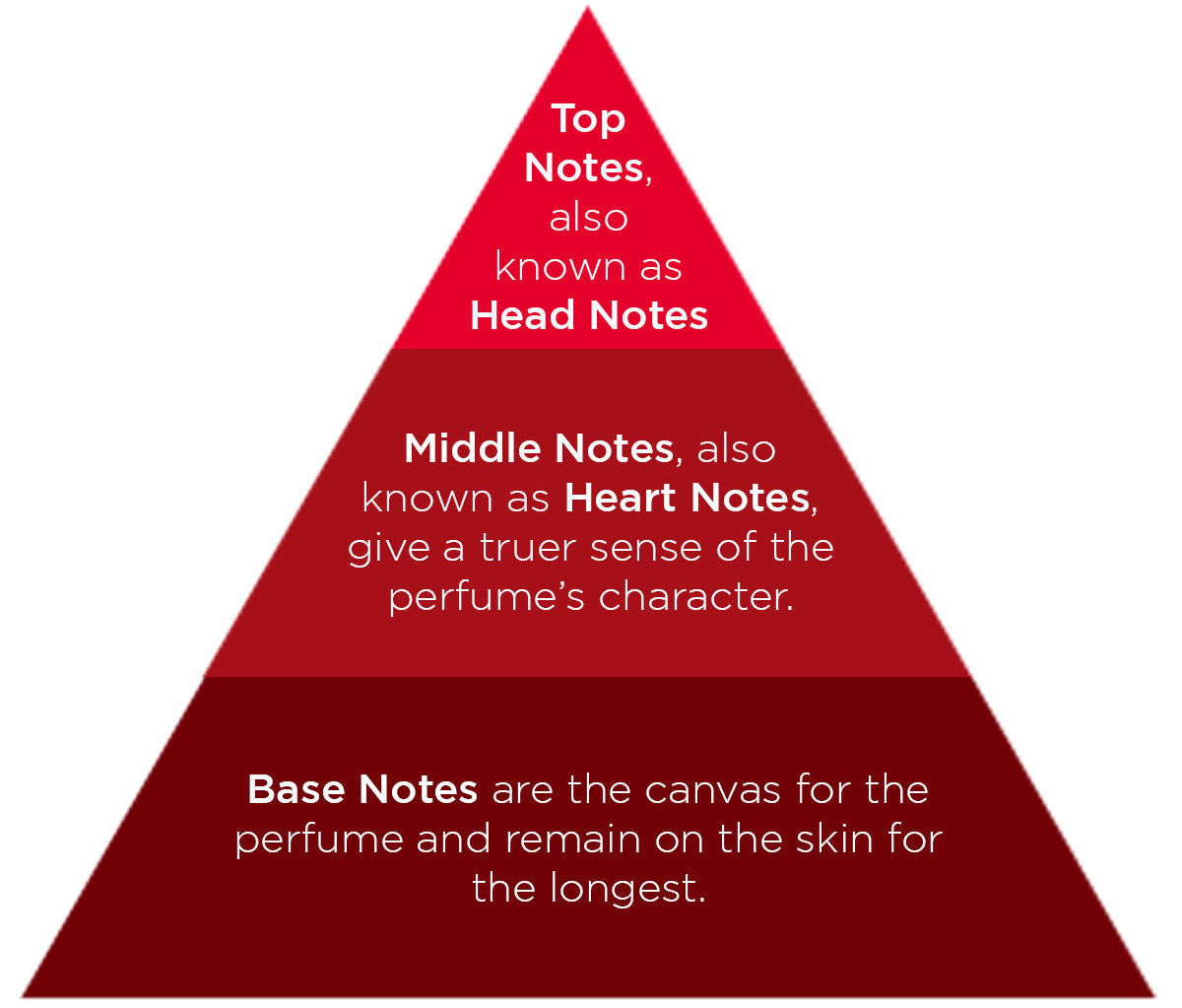 The notes contained in a well-balanced perfume.
The middle notes appear once the top notes begin to fade. These give a truer sense of the character of the perfume and are often called the Heart Notes. These make up roughly 70% of an average perfume, and are therefore what you're likely to remember the perfume by. They will last longer than the top notes, but just how long will depend on the quality of the fragrance and the skin of the wearer.
Base notes are the canvas for the perfume and remain on the skin for the longest. The options perfumers have for these are more limited due to the nature of the ingredients and for how long they will last on the skin so they tend to make less of an individual statement. These will usually be used to complement ingredients in the other notes and help them to last longer.
Choosing your scent requires picking out the right balance of notes. You'll also need to assess how they react on your skin so don't be afraid to ask for a sample; something that can smell wonderful with one person's bodily chemistry can smell completely different on another.
Whether vintage or modern, when applying perfume, hold the bottle about 6 to 8 inches away from your wrists or neck and resist rubbing your wrists together or on your neck after applying it. Doing so can crush the delicate molecules and affect the fragrance.
Choosing a signature scent
As Marcel Proust all-too-famously reminded us with his description of "involuntary memories", scent can evoke warm feelings of nostalgia, and perfume enthusiasts often seek out vintage bottles. There are two common areas of vintage perfume bottle collecting:
1. Beautiful perfume bottles from decades past. These might be art glass, especially sought-after among these are bottles from the Art Nouveau and Art Deco periods by visionaries like Rene Lalique and Baccarat. Truly dedicated collectors might even seek out ceramic perfume bottles, dating back to the time of the Ming Dynasty in China (1368 to 1644) or glass perfume bottles from the Roman Empire.
2. Vintage Perfumes: Perfumes that are older than 10 years, which have been reformulated or are now discontinued. Today, there is an active vintage perfume collectables market – the value of bottles comes from their rarity and people's desire to get their hands – and noses – on original formulas, some of which might smell different to their modern version thanks to regulations by the International Fragrance Association, the global body that sets guidelines for safe use of chemicals and oils in perfumes.
Bottles of Chanel No 5 from the 1950s, Miss Dior and Diorella are all highly prized. Even partially used bottles can fetch hundreds of dollars.
When looking to buy a vintage bottle, it's wise to speak to the seller about its storage conditions. Ideally, it would have been stored in its original box, in a place with a consistent, cool temperature, and out of direct sunlight.
Timeless perfumes for any occasion
Over time, many fashion houses followed in the footsteps of Coco Chanel and created signature scents that are now immediately recognizable and are considered classics. Here we round up some of those that have stood the test of time.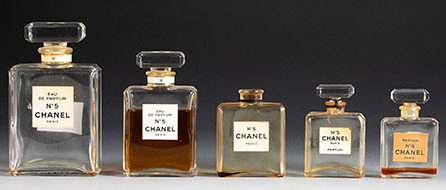 "Chanel No. 5", fragrances by Chanel. Sold for €110 via Setdart Auction House (April 2022).
Arguably the world's most iconic perfume, Chanel No 5 was created in 1921 to appeal to the modern, emancipated woman. Perfumer Ernest Beaux took up Chanel's challenge to concoct a scent that was both fresh and alluring, with a bouquet of jasmine, rose, sandalwood and vanilla. Smart advertising tied it to glamorous women, from Catherine Deneuve to Marilyn Monroe and Nicole Kidman. The simple glass bottle was inspired by whiskey decanter, with a shape has remained largely unchanged since the 1920s. The current formula is very close to the original – and the fragrance remains the best-selling perfume in the world.
Mitsouko by Guerlain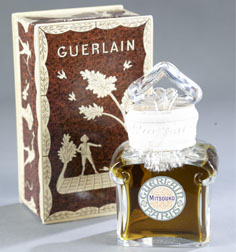 Mitsouko, Guerlain Paris perfume. Sold for $550 via Quinn's Auction Galleries (Dec 2021).
"It's like someone with fantastic bone structure married someone with fat in all the right places and they had a perfect child"
Tania Sanchez, Co-author of Perfumes:
the Guide An original creation by Jacques Guerlain himself, Mitsouko has been manufactured and sold consistently since 1919. It's one of the most famous examples of a chypre accord, which is a family of perfumes with an accord between citrussy top notes, floral middle notes, and woody base notes that tend to heavily feature oak moss. It was said to have been a favourite perfume among Charlie Chaplin, Ingrid Bergman and Sergei Diaghilev – and of course contemporary perfume expert, Tania Sanchez.
Diorissimo by Dior
The much-loved Diorissimo was created in 1956 by French perfumer Edmond Roudnistka, using the chemical Hyroxycitronellal to evoke lily of the valley, a flower than Christian Dior believed to be the symbol of hope and happiness. The scent's floral smell was delicate, intimate and sensual. It was reformulated in 2009 (largely to comply with updated regulations), and relaunched as part of Dior's collection Les Creations de Monsieur Dior.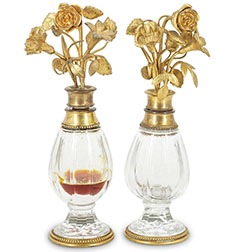 Vintage Baccarat x Diorissimo perfume bottles. Sold for $1,100 via Akiba Antiques (March 2022).
Black Opium by YSL
In 1964, Yves Saint Laurent launched Y, his first fragrance. He wanted to create a "lush, heavy, and languid perfume". In 1977, YSL introduced Opium, which was sultry and provocative. Its modern incarnation is Black Opium, a bold, evening scent which pairs black coffee with sensual vanilla, set against a base of patchouli and white musk.
Cinnabar by Estée Lauder
Estée Lauder's answer to YSL's Black Opium, cinnabar was formulated in 1978 – and reformulated and brought back to market in 2015 for enthusiastic nostalgists. In our Whistlestop Tour of Cinnabar Ornaments, we said that "cinnabar ornaments aren't wallflowers". And the same is true of its namesake perfume.
Changes to regulation mean inevitable accusations that the perfume currently on sale doesn't live up to its original reputation, although it still has its advocates. And those longing for the original can save an auction alert on Invaluable to be made aware of any bottles coming to auction.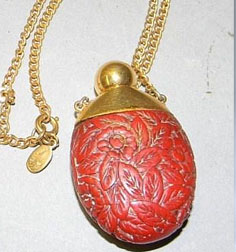 Signed Estee Lauder Cinnabar Perfume Pendant on chain. Sold for $30 via Berner's Auction Gallery (Feb 2011).
L'Air du Temps by Nina Ricci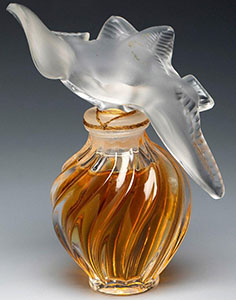 L'Air du Temps by Nina Ricci circa 1960, Lalique bottle. Auction passed via Setdart (Sept 2022).
L'Air du Temps made its debut in 1948. Translated as the spirit of the time, its spicy floral scent captured the optimism of the post-war generation. Carnations are at centre of its formula, with bergamot, rosewood and notes of rose and jasmine playing supporting roles while musk and amber add the final feminine touch. It has remained largely unchanged since its inception.
Calvin Klein by Calvin Klein
Calvin Klein's eponymous fragrance, Calvin Klein, was launched in 1978. A fun, youthful perfume, its floral top notes included peach, raspberry, hyacinth and gardenia. Although discontinued, it still has an army of fans who remember it from their youth and seek it.
Shalimar by Guerlain
Created by Jacques Guerlain in 1921, its rich, intoxicating scent and curvaceous crystal vial appealed to the French taste for the Far East and was loved by icons like Brigitte Bardot and Rita Hayworth. With notes of vanilla, sandalwood and iris, Shalimar remains one of Guerlain's most popular perfumes. Its formula was updated in 2011 to make it more floral and mellow for contemporary audiences.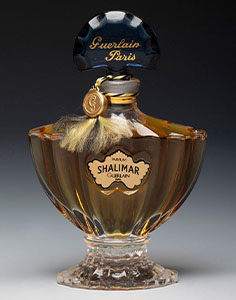 Rive Gauche by Yves Saint Laurent
"I get depressed if I can't find my bottle of YSL's Rive Gauche. It comes with me everywhere."
Iconic British actress, Joanna Lumley
The signature perfume of glamorous British actress, Joanna Lumley, YSL's Rive Gauche was developed in 1970 by perfumer Michel Hy. Its name means "Left Bank" and refers to the left bank of the river Seine, which became a byword for cool, intellectual young people in the 1960s and '70s. Today, its highly recognizable metal bottle is a collectable. stands the test of time as it's made to withstand being dropped!
Vintage perfume hunters will need to keep their eye on resale sites and auction houses to find the scent they'd like to add to their collection. It can sometimes be tricky to precisely date a bottle but brushing up on the perfume's history, packaging and ingredients list can help narrow it down. As to whether to spritz or not to spritz, that is an altogether trickier question. Why not browse vintage perfumes on Invaluable now?
Source
---
‹ Back